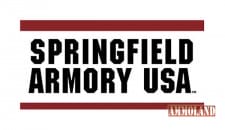 GENESEO, IL (AmmoLand) – Another "Duel Day" has arrived in the Springfield Armory DUEL 3 promotion that has been ongoing throughout the month of September. Today's daily promotion includes two of Springfield Armory's own pistols, valued at more than $1,600 combined.
One lucky winner will receive a 1911 LW Champion Operator .45ACP, while another will receive an XD Mod.2 4.0" Service Model 9mm. To participate in the promotion, just visit DUEL.Springfield-Armory.com/Vote and vote on this week's head-to-head matchup, which includes the two guns in the giveaway.
Participants can register at DUEL.Springfield-Armory.com to vote in the weekly "duel," in which two Springfield Armory® firearms are pitted against each other in a side-by-side comparison. Each vote increases a participant's chances of winning prizes, and registered participants can vote up to once an hour.
Upcoming DUEL 3 prizes:
Gear Up & Go Promotion: In addition to the DUEL 3 promotion, from Sept. 1-Dec. 31, 2015, Springfield Armory is running a Gear Up & Go promotion. Any new purchase of a Springfield Armory XD, XD Mod.2, XD(M), XD-S or 1911 handgun includes two extra magazines, a dual-pistol range bag and a double-mag pouch free with purchase.
About DUEL 3: This is Springfield Armory's third iteration of one of the shooting industry's largest gun and gear promotions. Participants are eligible for daily and weekly prizes, as well as one grand prize. http://duel.springfield-armory.com
DUEL 3 Sponsors – http://duel.springfield-armory.com/sponsors