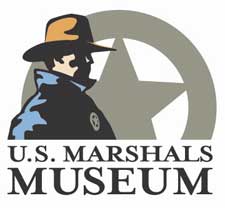 Fort Smith, AR -(AmmoLand.com)- The U.S. Marshals Museum today announced it has received a $100,000 pledge from the Hille Foundation of Tulsa in honor of Mr. David E. Bradley, a retired Deputy U.S. Marshal from Ketchum, Okla.
The grant will go toward construction of the future U.S. Marshals Museum.
"As we've said from the beginning, the U.S. Marshals Museum will not only benefit the Fort Smith community, but the entire Arkansas-Oklahoma region," said Jim Dunn, president and CEO of the U.S. Marshals Museum. "We appreciate the show of support from the Hille Foundation and look forward to their partnership on this important project."

Maggie Hille Yar, executive director of the Hille Foundation said, "We are proud to make this pledge in honor of Marshal David E. Bradley who has dedicated his life to law enforcement and the protection of the citizens of this country. Furthermore, it is our honor to support the U.S. Marshals Museum in its reflection of the close camaraderie that exists between the men and women who have served the nation in this capacity with deep devotion. Marshal Dave Bradley is the epitome of what a U.S. Marshal and this museum represents."
The Hille Foundation is a private, family foundation that supports non-profit organizations in the greater Tulsa region, with a particular focus on education, health, community building, economic development and the arts.
The foundation's $100,000 pledge to the U.S. Marshals Museum will be converted into a grant once the museum has reached its fundraising goal, broken ground and established its initial three-year operating budget.
 About the U.S. Marshals Museum:
The future U.S. Marshals Museum will be a national museum located on the riverfront in Fort Smith, Ark. Museum plans include three permanent exhibit galleries, a temporary exhibit gallery, the Samuel M. Sicard Hall of Honor and a National Learning Center. The museum will tell the more than 225 year story of the U.S. Marshals Service, the oldest law enforcement agency in the United States, and honor the sacrifice of marshals killed in the line of duty.
For more information, visit www.USMarshalsMuseum.org.