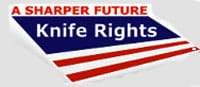 Gilbert, AZ –-(Ammoland.com)- In the first victory this year for the irrational ivory ban proponents, after defeats in over a dozen states, Governor Jerry Brown signed the California Ivory Ban bill, AB 96, on Sunday.
The ban does not go into force until July 1, 2016. At that time, all sale and trade of knives with ivory from "elephant, mammoth, mastodon, walrus, warthog, whale, or narwhal" are essentially banned with potential five figure fines for each infraction.
Musicians have been allowed an exception for their instruments with ivory because, well, I suppose they are more equal than all the rest of the population, or maybe, because they usually vote for those who are pushing the ban.
Outright lies and emotional appeals have once again trumped facts and science. This punitive and draconian ivory ban won't save a single elephant in Africa and only steals millions of dollars from law-abiding Californians.
Knife Rights abhors the poaching of all species. The proven solution is to attack poaching at the source and in the primary destinations for the illegal ivory, China and Asia, not punish millions of lawful decades-old ivory owners in the U.S. who cannot have any effect on poaching in Africa. Successful anti-poaching programs in Africa have demonstrated that an integrated comprehensive approach that support law-enforcement in the field and encourages the locals to fight poaching does work to save elephants. Illegally stealing the investments of law-abiding Californians will not save a single elephant in Africa.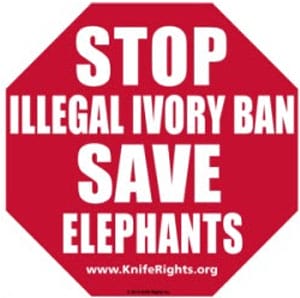 California now joins New York and New Jersey as the only states that have ivory bans, including ivory from extinct mammoths and mastodons. The bans have already created a black market for formerly lawfully held items that include ivory and fossil ivory, including knives, by individuals, many times seniors, who cannot withstand the losses to their investments and desperately need to cash in to deal with life's misfortunes.
A lawsuit challenging the ban as a "taking" violation of the 5th and 14th Amendments to the U.S. Constitution is a possibility being explored by those opposed to the asinine ban.
Find out more about ivory bans including the facts, science and rational reasons why Knife Rights opposes them at www.KnifeRights.org
About:
Knife Rights (www.KnifeRights.org) is America's Grassroots Knife Owners Organization, working towards a Sharper Future for all knife owners. Knife Rights is dedicated to providing knife owners an effective voice in public policy. Become a Knife Rights member and make a contribution to support the fight for your knife rights. Visit www.kniferights.org