Las Vegas – -(Ammoland.com)- If you're a gun aficionado but you're tired of ogling all of the biggest, baddest machine guns from afar, then it's time to take your favorite pastime up a notch—it's time to get up close and personal with some real firepower.
With common machine guns rentals—yes, you heard me right. Machine. Gun. Rentals.
You can learn the ins and outs of history and Hollywood's most infamous firearms, and learn from professionals how to expertly load and shoot your favorite guns.
In this blog, I'm going to open your eyes to the world of exotic firearm rentals, touching on a few of the most common machine guns and submachine guns that you can rent—available at Machine Guns Vegas—as well as a few specialty guns that are sure to make your gunpowder heart skip a beat.
M249 Squad Automatic Weapon
The M249 SAW is the American adaptation of the Belgian FN Minimi, and when you want to handle a lightweight machine gun that can pack a punch, it's your go-to. In the 80s ,the M249 SAW was named the most effective automatic firepower within a small unit. When it comes to its basic operations, this air-cooled, gas operated automatic weapon takes a belt or magazine, it shoots 750-1000 rounds per minute, and it combines the firing capability of a machine gun with the precision and portability of a rifle. What more could you want in a piece of equipment?
M1919 Browning Machine Gun
The M1919 Browning is a gas operated, air-cooled, belt-fed machine gun that has seen a handful of variations over the years, but was typically mounted on aircraft and jeeps during both the Korean and Vietnam wars by the US military, her allies, and her enemies. While all gun ranges that will allow you to rent machine guns will give you proper training before the actual shoot, it's commonly known that the mount makes the M1919 Browning one of the easiest guns to fire. With a 250-round fabric belt that shoots 400 rounds per minute, get ready to get your brain rattled.
The Tommy Gun
As mentioned earlier, you can also rent a variety of submachine guns, too, such as the Thompson—or what is commonly known as the Tommy Gun. This submachine gun comes in a variety of models and variants—including a "Persuader" variant that is belt-fed and an "Annihilator" variant that is box-fed. One thing is shared across the board is that it's a classic gun that's made quite the name for itself. With the speed and power it takes to get the job done in even the most grueling situations, being able to fire one of these bad boys is a dream come true for avid video gamers, history buffs, and gangster film fans alike.
When it comes to their operation in combat practice, the guns in the M1/M1A1 Thompson series are known for their user-friendly handling capabilities, their reliability, and their overall ability to bring the heat in dangerous encounters as well as common machine guns rentals.
The M134 Minigun Machine Gun
No, I'm not kidding—you can actually rent a minigun. While not one of the most common machine guns in the market that are up for rent, you can get your hands on one of these big guys if you know where to look for it—such as Machine Guns Vegas, one of the most pulse-pounding attractions in Nevada, located right next to the Las Vegas Strip.
When it comes to its build and operation, the M134 Minigun is a 7.62x51mm NATO six-barrel machine gun—featuring gatling-style rotating barrels—and it shoots an astonishing 2,000-6,000 rounds per minute. All you have to do is plant your feet and get ready to dish out the devastation.
Get Ready for the Experience of a Lifetime with Common Machine Guns you can rent.
No matter which machine gun or submachine gun you're dying to get up close and personal with, machine gun rental is the way to go. And for the enthusiasts out there that want to taste a little bit of everything, check out a gun range with a wide selection of common machine guns to rent.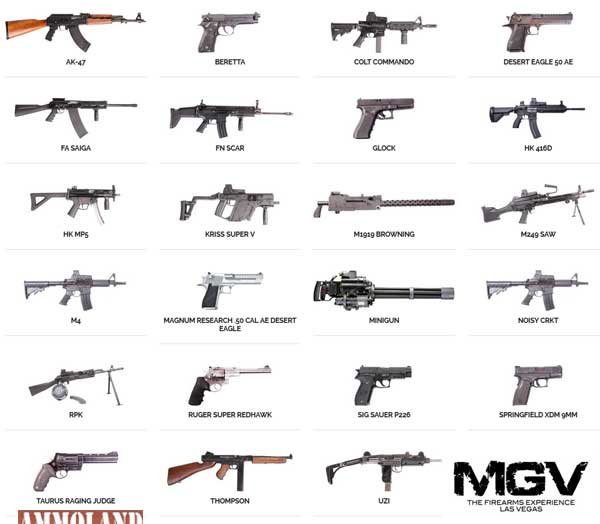 Author Bio: Lance Clark is a freelance writer from Los Angeles, CA. He has written for high profile clients like Demand Media and the Livestrong Network. When not typing away at his next masterpiece, he enjoys time at the shooting range or on the basketball court.