INSIDE FIELD & STREAM'S ILLUSTRATED OCTOBER 2015 ISSUE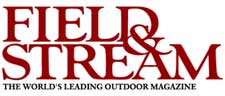 New York, NY -(AmmoLand.com)- If October's Field & Stream looks familiar, that's because the illustration (titled "King of the Mountain," by artist Stephen P. Hughes) is a modern twist on one of the magazine's most famous covers ever, which was on newsstands about a century ago, in November 1915.
"I wanted to retain the confidence and spaciousness of the original." Hughes tells Field & Stream, "It felt like I was working with a tangible piece of the magazine's history, which was great."
October's cover pays homage to an iconic moment in Field & Stream's 120-year history; while it draws attention to the technological advances that outdoorsman enjoy today, it reminds readers of the timeless joys of celebrating the outdoor experience.
In February 2006, Field & Stream published their "50 Greatest Guns Ever." The magazine sold out, and shooters everywhere tore through its pages to see if their favorite had been included.
Eight years have passed, and much has changed. Guns have come and gone, and this list couldn't be more different than the last one.
In any event, here it is online: the 2015 Field & Stream 50 Best Guns Ever Made.
Also in the October Issue:
The Adventurer's Almanac
Field & Stream has collected the skills, tools and attitude you'll need to haul meat off the mountain – no matter what big game you're chasing – and have the thrill of your life. Page 52
The Wild Chef – Pine-Smoked Grouse
Learn how James Beard Award-winning chef Fabio Trabocchi of Washington, D.C., infuses game birds with a taste of the woods.Page 24
Egg 'Em On
Salmon roe and its imitators have been slaying everything from silver salmon to stocked rainbow trout for decades. But it turns out you can teach this old bait some deadly new tricks. Page 66