Now 600 Lumens!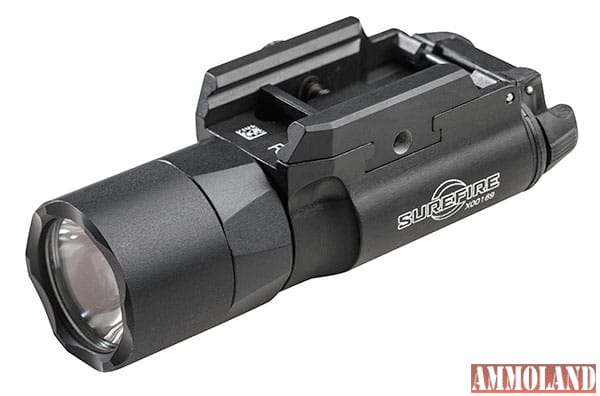 Fountain Valley, CA -(AmmoLand.com)- SureFire, LLC, manufacturer of high-end illumination tools and tactical products, has released a new and improved version of its best-selling X300 Ultra WeaponLight for handguns and long guns.
This new model; the SureFire X300 Ultra Weapon Light X300U-B, produces an additional 100 lumens of output from its solid-state LED, generating a maximum output of 600 lumens, an increase of 20 percent. What's more, the X300U-B also features the same T-slot mounting system found on laser-equipped X400 WeaponLights, so it attaches to a wider range of firearm makes and models than previous X300 models.
"Our customers and end-users let us know they preferred the mounting system used on our X400 lights, and we accommodated them by incorporating it into the new X300 Ultra design," said SureFire VP of Marketing and Commercial/Consumer Sales Jeff Barger. "This X300 will fit a wider range of handguns and any MIL-STD 1913 rail-equipped long guns, making it one of the most versatile weapon-mounted lights ever produced."
Adding to the new X300 Ultra's versatility is its beam, focused by a proprietary TIR lens to create a beam with plenty of reach—for longer-range use—yet enough surround light to accommodate peripheral vision, essential for maintaining good situational awareness in closer-quarter applications. The X300 Ultra also features new and improved rear ambidextrous switching, which is now wider and shorter than on previous versions, for intuitive activation by pressing (for momentary activation) or flipping it up or down (for constant-on activation). As with all SureFire X-Series WeaponLights, optional remote switching is also available for purchase.
Constructed of rugged hard-anodized aerospace aluminum, including the T-slot mount itself, this durable WeaponLight is O-ring and gasket sealed to keep out moisture, dust, and debris. Universal and Picatinny crossbar wedges are included for simple, foolproof installation to rail-equipped handguns and pistols. SureFire also offers several optional rail adapters, which allow X-Series WeaponLights to mount on some popular rail-less handgun models.
Even with these significant enhancements, the new X300 Ultra is still priced at $299.00 MSRP and comes with two high-energy SureFire 123A lithium batteries, used to power the light.
It is available for purchase through authorized SureFire dealers or by calling SureFire at 800-828-8809 or going online at www.surefire.com.
About SureFire:
Located in Fountain Valley, California, SureFire, LLC is the leading manufacturer of high performance flashlights, weapon-mounted lights, and other tactical equipment for those who go in harm's way, or anyone who demands the ultimate in quality, innovation, and performance. SureFire illumination tools are used by more SWAT teams and elite special operations groups than any other brand. SureFire is an ISO 9001:2000-certified company.
For more information, visit: www.SureFire.com.