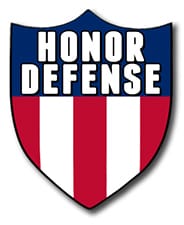 Atlanta, GA -(AmmoLand.com)- Designing high quality firearms can be greatly enhanced with the use of 3D scanning technology.
As a result, Honor Defense partnered with GoMeasure3D, based in Amherst, Virginia, to integrate the use of 3D scanning in the development of its new line of pistols that are launching late this year. Honor Defense collaborated with GoMeasure3D to implement the use of HDI 3D scanners for the design and production of its new line of concealed carry handguns.
The systems use structured­ light technology and is perfect for designing small parts used in many industries-from assembly lines to machining centers.
"You can only build high ­quality handguns if you have high quality equipment and exacting standards," says Gary Ramey, President of Honor Defense. "GoMeasure3D provides that technology for us. We have used the laser technology extensively in product development and design. In addition, we also use the 3D scanners in quality control to ensure everything matches specifications."

"With a single scan, our equipment captures approximately 1 million data points per second, with an accuracy of 34 microns per scan. They've made our design processes faster and allowed us to raise the bar on quality."
The new line of pistols will be available beginning this November. To preview the new line, please visit Honor Defense's website at www.honordefense.com.
About Honor Defense LLC:
Honor Defense offers the finest American­ made pistols ­using only American partners and materials. Honor Defense pistols are built with more features and higher quality standards than other pistols in their size range. To create its pistols, Honor Defense secured input from a panel of professionals that have defended our nation or have extensive credentials in self­ defense training.
For more information, please visit www.HonorDefense.com.
About GoMeasure3D:
GoMeasure3D is a provider of affordable 3D scanning systems and measurement equipment that transform real world objects into digital 3D models for industry applications including CAD/CAM, reverse engineering, scientific measurement, quality inspection, and 3D visualization. The company focuses of delivering simple and effective solutions that enhance productivity.
For more information, please visit www.GoMeasure3D.com.