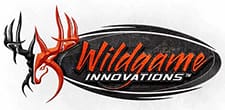 New Roads, LA -(AmmoLand.com)- There's nothing like a little Moonshine to get a nighttime party started. But instead of killing your brain cells, why not take out some predators and wild hogs instead?
Whether you're an avid hog or predator hunter, or you just want to see what's happening under your feeder at night, Wildgame Innovations' Moonshine 2 is the easy, affordable and effective solution to wildlife feeder illumination. The avid hunters at Wildgame Innovations got tired of the hassles involved with installing lights on their feeders.
Between the wiring, power source, mounting and maintenance of available systems, they knew they could do better. They put their heads together, and the Moonshine 2 is the result.
This all-in-one light system features 16 green LEDs that won't spook game. They're activated by a motion-sensing PIR switch that saves battery life and lets you know when an animal is visiting the feeder. Best of all, they're powered by a built-in solar panel that makes changing heavy and expensive batteries a thing of the past.
The Moonshine 2 is easy to install on any feeder, and setup hardware is included.
Moonshine 2 Highlights:
For hog and predator hunting
Easy installation for any feeder
Setup hardware included
PIR activated
Built in solar panel
On / Off switch when not in use
16 green LED light system
Weather resistant design
Built in lithium Ion battery
Includes mounting screws
For more information about Wildgame Innovations' Moonshine 2, please visit www.wildgameinnovations.com.
About WGI Innovations, Ltd.:
WGI Innovations, Ltd. is the distinct leader in the game scouting camera, feeder and outdoor electronics market. Wildgame Innovations strives to provide big game hunters and game management professionals with the latest and greatest in outdoor innovation. Our lines of feeds, seeds, and attractants are specially formulated to keep your herd healthy, active and growing year after year.
For more information, please visit www.WildGameInnovations.com.