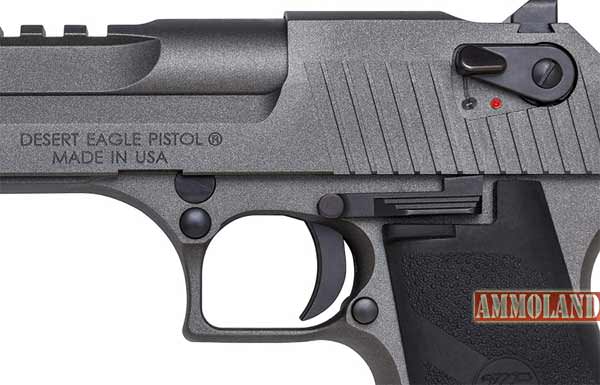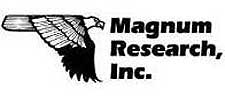 Greeley, PA –-(Ammoland.com)- Once again, USA based Magnum Research is introducing another new  version of the iconic Desert Eagle with the addition of their new Cerakote Tungsten to the .44 magnum and .50 AE Desert Eagle products.
"Over the past couple of years, we have added Stainless Steel, Burnt Bronze, even animal prints to our Desert Eagle line, but now we have upped the image with this very commanding dark gray graphite color called Tungsten. The new color really puts the "muscle" into the look of this powerful handgun." says Frank Harris, VP of Sales and Marketing.

"The overall look has a military feel about it which really appeals to many gun owners."
The Cerakote coating is a multi-step process which results in a high temperature ceramic coating that holds up well under normal use. The Tungsten model is complemented with attractive black appointments which gives the pistol even more appeal.
The Mark XIX Desert Eagle Tungsten pistol is a gas-operated, semi-automatic pistol with a 7-round capacity in .50AE and an 8-round capacity in .44 Magnum. The gun measures 10.75" in length and has a 6" barrel. Width is 1.25", height is 6.25" and the weight with an empty magazine is approx. 72 ounces. It has a trigger reach of 2.75" and a sight radius of 8.5" with the 6" barrel.  The construction of the Mark XIX Desert Eagle pistol utilizes the latest CNC machine technology providing exacting specifications with tight tolerances creating a work of art in a precision firearm.
The grip is anatomically formed and provides an ideal hand seating angle for two-handed shooting, allowing for comfortable, rapid and accurate firing. The Weaver style accessory rail easily allows for aftermarket optics and scope rings.
The new Cerakote Tungsten Desert Eagle is offered in either the .50AE or .44 Magnum calibers. Model numbers are DE44TU in .44 Magnum and DE50TU for the .50AE. The MSRP is $1696. For more information about Magnum Research products, visit www.magnumresearch.com