Waterfowlers Require the Warmth and Dryness of Próis' Xtreme Clothing Line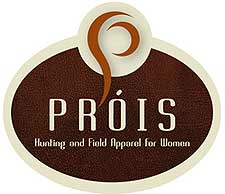 Gunnison, CO -(AmmoLand.com)- Whether it's ducks, geese, or cranes you're after, choose your hunting gear wisely because let's face it, it's going to be a cold, wet, and windy day afield.
Waterfowl hunting isn't for the faint of heart, birds don't take days off because of weather and you shouldn't have to either. This season, try Próis' Xtreme Line to keep you warm in the field or marsh.
You can't function without your weapon, which extends beyond the shotgun you carry. Hunting apparel can make or break your hunt, especially when you are fighting the elements. Próis' Xtreme jacket and pants offer a waterproof shell and insulated fabric, which will keep you dry and warm on the most frigid days.
Try the Xtreme jacket on for size and you'll never want to take it off. Offered in both Realtree AP and Advantage Max 1, this jacket has all of Próis' signature features you know and love. Nylon tricot lining makes for ease of layering and added silence. Deep chest and hand pockets with zippered closures offer plenty of space for calls, gloves, hand warmers, and other tools.
The more wind the better when it comes to hunting waterfowl, but more wind can also mean added discomfort if you aren't donning the proper attire. This is not a concern with the Xtreme jacket, as it features Velcro closures at the wrist and a ducktail designed to provide additional warmth and dryness to the backside. A built in drawstring along the waist further enhances warmth and keeps cool air out.
Próis' Xtreme pants are constructed of similar materials, with nylon tricot lining and 150 gram 3MM ultra thinsulate. They are also offered in both Realtree AP and Advantage Max 1. Layer these pants over your jeans while goose or crane hunting and you will never be cold again. As the day goes on, quickly remove them by unzipping the 9 inch boot zippers, designed specifically for ease of layering. Deep-set cargo pockets on each side are perfect for stowing flashlights, cell phones, or other important gadgets. An elastic waist and drawstring are perfect for layering and keeping the breeze out. These pants are the ultimate in warmth and perfect for the seasoned waterfowler.
The Xtreme line is offered in sizes XS-XXL. Get these items and more at www.proishunting.com or call (970) 641-3355 to receive additional advice from the staff on recommended sizing and camo patterns.
Próis was created for women, by women who refuse to settle for downsized men's gear or upsized children's gear. Each garment is created with the most technologically advanced fabrics available and a host of advanced features to provide comfort, silence and durability. The company's out-of-the-box thinking has resulted in amazing designs for serious hunters that have taken the industry by storm and raised the bar for women's outdoor apparel.
To learn more about the company's innovative line of serious, high-performance huntwear for real women, contact: Próis Hunting and Field Apparel, 28001-B US Highway 50, Gunnison, CO 81230 · (970) 641-3355 · Or visit: www.proishunting.com.
About Próis Hunting Apparel:
Prois Hunting Apparel for Women (pronounced 'pro-iss') manufactures athletic, technical hunting and shooting clothing for women. Visit us and see what products our staff suggests for hunting big game!
For more information, visit: www.ProisHunting.com.