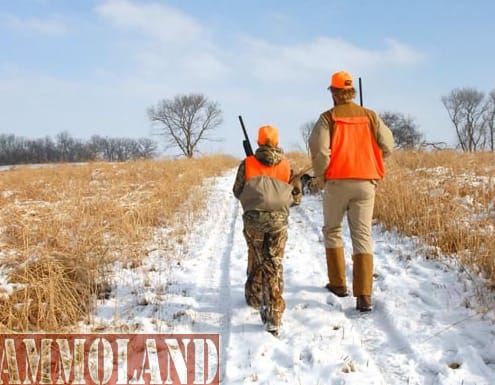 Texas -(Ammoland.com)- Starting with the opening of squirrel season, young hunters can get a jump start on the 2015-16 Texas fall hunting seasons, with more special youth-only hunting seasons on the horizon. Biologists say range conditions and wildlife populations are ripe for success in the field.
This weekend's youth squirrel hunting season in East Texas in advance of the Oct. 1 general season opener provides mentoring opportunities for the next generation of hunters for this Pineywoods tradition.
Young waterfowlers will get first crack at ducks in the Panhandle and South Duck Zone the weekend of Oct. 24-25. The weekend of Oct. 31-Nov. 1 is set aside as the special youth-only seasons for white-tailed deer, Rio Grande turkey statewide, and for waterfowl in the North Duck Zone, to encourage adults to share the hunting experience with the next generation of hunters.
The statewide special youth-only hunting weekend for white-tailed deer and Rio Grande turkey is open to licensed youth 16 years of age or younger. Hunting for ducks, mergansers and coots during the youth-only waterfowl season is open to youngsters 15 years of age or younger and no state or federal waterfowl endorsements (stamps) are required. Popular wildlife management areas for waterfowl hunting along the coast will be open for the special youth-only season.
A Special Youth Hunting License ($7) is required for all hunting activities and may be purchased at any one of TPWD's 28 field offices, more than 50 state parks and at over 1,700 retailers across the state. Licenses may also be purchased online or by phone at 1-800-895-4248. Call center hours are Monday through Friday, 8 a.m. to 5 p.m. Please note that here is a required $5 administrative fee for each phone or online transaction but multiple items can be purchased during a single transaction occasion for the $5 fee. The online transaction system is available 24/7.
Hunter education certification is strongly recommended for young hunters, but if not certified they must be accompanied by someone who is at least 18, who is certified or exempt. In Texas, the minimum age that a young hunter may be certified is 9. All hunters 17 and older born after Sept. 1, 1971, are required to have successfully completed a certified hunter education course in order to legally hunt in Texas.
Additional information and resources about youth hunting opportunities is available online.