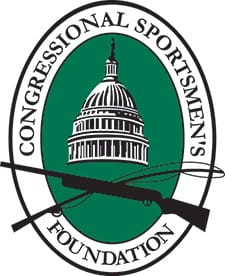 Washington, DC -(AmmoLand.com)- This week, legislators from 30 state legislative sportsmen's caucuses and nearly 200 attendees joined the Congressional Sportsmen's Foundation (CSF) and representatives from the hunting and fishing community in Manchester, Vermont for the 12th Annual National Assembly of Sportsmen's Caucuses (NASC) Sportsman-Legislator Summit, to reflect on current issues related to hunting, angling, and fish and wildlife conservation.
"This Summit is the most important time of the year for sportsman-legislators to learn and share policy challenges and successes from states across the country," said CSF President Jeff Crane.
Themed, "Taking Action: Advancing a Conservation Agenda," this year's Summit's informative policy sessions included: Lead Ammunition Bans, Rebranding Hunting and Angling to the Public: Wildlife Councils for Public Education, Habitat Management on Public Lands, Anti-Hunters' New Focus, Chronic Wasting Disease, Recruitment, Retention, and Reactivation, Right to Hunt and Fish Constitutional Amendments, Challenges for America's Anglers, Wildlife Trapping Issues, and many more.
Welcoming attendees to the Green Mountain State was Vermont Governor Peter Shumlin, Vice-Chair of the Governors Sportsmen's Caucus (GSC), Vermont Lieutenant Governor Phil Scott, and the Vermont Legislative Sportsmen's Caucus, including Representative Patrick Brennan, Caucus Co-Chair.
"We have tremendous respect for fishing, for hunting, for all outdoor [activities], for conservation," said Governor Shumlin. "[Sportsmen and women] are the ones who keep our natural resources healthy, thriving, and maintaining and conserving [the outdoors]."

"It is our pleasure to host the 12th Annual NASC Summit and show off our state. We are very proud of our fishing and hunting heritage here," said Rep. Brennan. "[The Vermont Legislative Sportsmen's Caucus] has grown to 78 members, and each member plays an active role."

"Now with 48 states under NASC, hunters, anglers, recreational shooters, and trappers throughout the country are represented better than ever in the states legislatures," said NASC Executive Council President Senator Robin Webb (KY).
During the event, a legislator vote was held to induct the 2016 NASC Executive Council, which will include 14 members: President Sen. Robin Webb (KY), Vice President Rep. Brandon Phelps (IL), Secretary Rep. Mark Neuman (AK), Sen. Mike Green (MI), Sen. Bill Heath (GA), Del. Wendell Beitzel (MD), Rep. Patrick Brennan (VT), Rep. Sal Esquivel (OR), Rep. Herb Frierson (MS), Rep. Jeff Goley (NH), Rep. Bill Rehm (NM), Rep. Brian White (SC); and alternate members: Rep. Linda Black (MO) and Sen. Pam Roach (WA).
The Summit concluded with guest speaker, Sportsman Channel celebrity Melissa Bachman of Winchester Deadly Passion, followed by the annual award presentation, recognizing the dedication of individuals and groups to the NASC network. Delaware, South Dakota, West Virginia, and Wisconsin were presented with a 2015 Caucus Inception Award. "2015 NASC Heritage Awards" were presented to Representative Jimmy Dixon (NC), Senator Scott Hammond (NV), Representative Stephen Wood (ME), and the Wisconsin Legislative Sportsmen's Caucus. The annual "2015 Friends of NASC Award" was presented to the American Suppressor Association, and NASC Executive Council Vice President Representative Brandon Phelps (IL) received CSF's highest honor, the "Brad Rowse Leadership Award."
The Title Sponsor of this year's event was Safari Club International. Host Sponsors included: National Rifle Association, National Shooting Sports Foundation, Reynolds American, Inc., and Vista Outdoor Inc. Co-Host Sponsors included: Bass Pro Shops, Bayer Corporation, Cabela's Outdoor Fund, Dallas Safari Club, Pheasants Forever, Inc., Remington, Richard Childress Racing, Shimano American Corporation, and Time Warner Cable. In addition, thank you to the many additional CSF and NASC supporters who provide time and resources to make the Annual NASC Summit possible.
About CSF:
Since 1989 CSF has maintained a singleness of purpose that has guided the organization to become the most respected and trusted sportsmen's organization in the political arena. CSF's mission is to work with Congress, governors, and state legislatures to protect and advance hunting, angling, recreational shooting and trapping. The unique and collective force of the Congressional Sportsmen's Caucus (CSC), the Governors Sportsmen's Caucus (GSC) and the National Assembly of Sportsmen's Caucuses (NASC), working closely with CSF, and with the support of major hunting, angling, recreational shooting and trapping organizations, serves as an unprecedented network of pro-sportsmen elected officials that advance the interests of America's hunters and anglers.
For more information, visit: www.sportsmenslink.org.