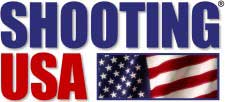 Nashville, TN -(AmmoLand.com)- Shooting USA – IDPA Indoor Championship 2015
We're inside the Smith & Wesson Shooting Center covering the IDPA Indoor Nationals. Interactive and realistic scenarios challenge the best in the sport. John has the highlights, with Tony Pignato as competition analyst. Plus, the breakthrough John Browning pistol design that's now one of History's Guns. And a young shooter defies the odds and shares his inspiring story.
Shooting USA's Impossible Shots – The Modern Annie Oakley 
Shooting by sighting with a mirror. It's the famous exhibition shot simply known as the Annie Oakley. All of our Pro Shooters have tried it in the past, except Julie Golob, until now.  Julie's shooting over her shoulder with an M&P 15-22 as her take on the Modern Annie Oakley. Plus, Mr. Flintlock tries for a long range shot with a round ball.
NEW! AIR TIMES BY TIME ZONE
The Shooting USA Hour Wednesday:
Eastern Time: 3:00PM, 9:00PM, 12:00 AM Thursday
Central Time: 2:00 PM, 8:00 PM, 11:00 PM
Mountain Time: 1:00 PM, 7:00 PM, 10:00 PM
Pacific Time: 12:00 Noon, 6:00 PM, 9:00 PM
Shooting USA is listed as a one-hour show in your cable menu.
Shooting USA's Impossible Shots:
Wednesday:
Eastern Time:  7:30 PM, 11:30 PM, 2:00 AM Thursday
Central Time:  6:30 PM, 10:30 PM, 1:00 AM Thursday
Mountain Time: 5:30 PM, 9:30 PM, 12:00 Midnight
Pacific Time: 4:30 PM, 8:30 PM, 11:00 PM
USPSA & the Match for Pros and Amateurs
First, we head to the Bluegrass State for the USPSA Kentucky Sectional. It's a high-tech match, the first of its kind with match cameras recording stage runs in real time, live-streamed for competitors to watch and analyze.
Then, GA Precision and Bushnell Tactical host the GAP Grind Pro-Am in Tennessee, where professional precision rifle shooters team up with new shooters to take on more than 20 stages in a uniquely formatted competition.
Catch the action in the coming weeks!
Stay Connected
Be sure to "Like" Shooting USA on Facebook for behind-the-scenes coverage: https://www.facebook.com/JimScoutten.ShootingUSA
And, on Instagram!
https://instagram.com/shootingusa
Jim
Defending the 2nd by Example in the 22st Year
[email protected]
About Shooting USA:
Jim Scoutten, America's Most Watched Firearms Reporter, has been on the beat for 14 years, reporting the stories of the Shooting Sports and the firearms Industry. The show produces a series of popular segments focusing on historical guns, the personalities in the sport and industry, insider reports from gun tests, and practical tips from shooting sports pros. The show appeals to shooting sports enthusiasts of all ages and skill levels by providing practical tips on safely handling, modifying and repairing their favorite guns.
For more information, please visit www.ShootingUSA.com.