By David Codrea
USA – -(Ammoland.com)- In a setback for Michael Bloomberg and Democrat Governor Terry McAuliffe, Republicans held on to their majority in the Virginia Senate. That's despite nonstop media coverage of the Democrat governor's political barnstorming efforts and the infusion of millions of dollars into campaign ads from out-of-state PACS, notably $2.2M from Everytown to sway voters in two key State Senate races.
Bloomberg's "unprecedented" spending dragged out the increasingly erratic former Democrat House of Delegates candidate Andy Parker, father of the TV journalist slain on camera by a former newsman co-worker / gay prostitute / Obama supporter, to attack Republican lawyer Glen Sturtevant in the 10th District Senate race. He spent another $1.5M against Republican Hal Parrish in the Senate 29 race.
While massive spending appears to have paid off against Parrish, but not against Sturtevant, Republicans holding on to all of their seats in the Senate is a major disappointment for both Bloomberg, who saw that out-of-state money isn't everything, and McAuliffe, who will not be able to establish a "progressive" legacy in Old Dominion much beyond the destruction he's already done there. But there are also lessons to be learned for Republicans in general and gun owners in particular.
The first concerns the Parrish campaign. With a reported NRA rating of 79%, that equates to a mediocre C+ on the grading scale. Such dismal performance is hardly enough to motivate gun owners to do all the things necessary for victory, including actively campaigning and donating money, especially in a Democrat district with Bloomberg blanketing the airwaves. It also raises the question of what the heck the A- grade and endorsement were all about, and what that says about reliability of ratings.
As for Sturtevant, he's lucky his district wasn't as politically lopsided and especially lucky NRA gave him an "AQ" questionnaire rating and endorsement in spite of his reported 86% ("B" average) grade. He's also lucky that objections raised by the Virginia Citizens Defense League over his refusal to return their survey, and concerns raised by other gun rights advocates over his "enforce existing gun laws" philosophy, did not receive wider attention. As is, his reported win was initially disputed, with his Democrat opponent holding off on immediately conceding what proved to be a very close race.
Virginia shows us the Bloomberg money machine can sputter and seize up.  It also shows us Republicans need to decide who their friends are, NRA ratings are hardly the final word, and more gun owners need to remind their "leaders" that squishes don't inspire the troops to show up and engage, let alone go all out.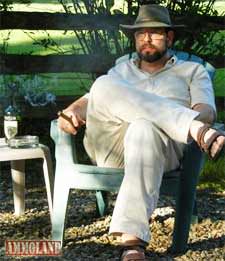 About David Codrea:
David Codrea is the winner of multiple journalist awards for investigating / defending the RKBA and a long-time gun rights advocate who defiantly challenges the folly of citizen disarmament.
He blogs at "The War on Guns: Notes from the Resistance," and also posts on Twitter: @dcodrea and Facebook.