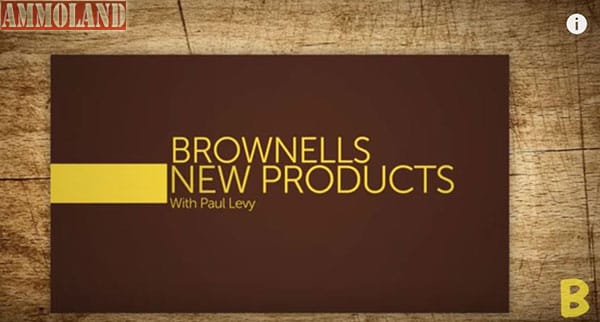 MONTEZUMA, Iowa -(Ammoland.com)-   Learn about the hottest new Brownells products from the best brands at the New Product Center.
Hosted by Merchandise Manager Paul Levy, the videos review what's new, and remain at the New Product Center page for several weeks. Then the videos are archived on the Brownells YouTube channel, and are accessible at any time.
Products featured in this week's video include:
1. Apex Tactical Glock Action Enhancement Trigger.  Aluminum drop-in replacement for factory trigger helps reduce pre-travel, overall trigger travel and reset, and gives a smooth, crisp break. Fits popular models of Glock pistols. Not for Glock G42 or G43. Will not work with Gen 4 trigger bar. Available as a complete kit with trigger bar, or as trigger only.
Apex Tactical Glock Action Trigger with Gen 3 Trigger Bar, #100-018-172. $99.95 retail.
Apex Tactical Glock Action Trigger Only, #100-018-173. $79.95 retail.
2. Magpul PMAG GL9 For Glock 19 (#100-017-578). Polymer magazine fits Glock G19 and gives reliable feeding. Has high-visibility anti-tilt follower, stainless steel spring, and easy-to-remove floorplate for cleaning. Indicator windows show how many rounds are in the mag. Drops free loaded or unloaded. $15.15 retail.
3. Dick Needle File Set (#249-210-001). Professional-grade needle file set has six files in various sizes and shapes for fine filing jobs. Ergonomic handles make them easy to maneuver and high-quality construction gives deep, clean cuts. Comes in organizer pouch to keep them handy on a bench or in a tool box. $66.99 retail.
4. KDG Sidelok Bases. Innovative optic bases have unique, front-lever locking system for fast and easy mounting and dismounting onto any Picatinny rail without using tools. Slim design won't get in the way of accessories or side-charging handles. Once locked on, the base stays securely in place. Returns to zero when remounted in same position.
KDG Sidelok Base For Aimpoint Pro & Comp M4, #100-018-100. $139.00 retail.
KDG Sidelok Base For Aimpoint Micro, #100-018-099. $139.00 retail.
KDG Sidelok Universal Scope Riser, #100-018-101. $99.00 retail.
About Brownells:
Serious About Firearms Since 1939, Brownells is the world's leading source for gun parts and accessories, ammunition, gunsmithing tools, survival gear and archery. With a large selection of both common and hard-to-find items, and an extensive collection of videos, articles, and gun schematics, Brownells is the expert for everything shooting-related. Committed to maintaining our great traditions, Brownells has more, does more and knows more – and guarantees it all, Forever. Stay up-to-date with Brownells on YouTube, Facebook, Twitter and Instagram.
For more information or to place an order, call 800-741-0015 or visit www.Brownells.com.