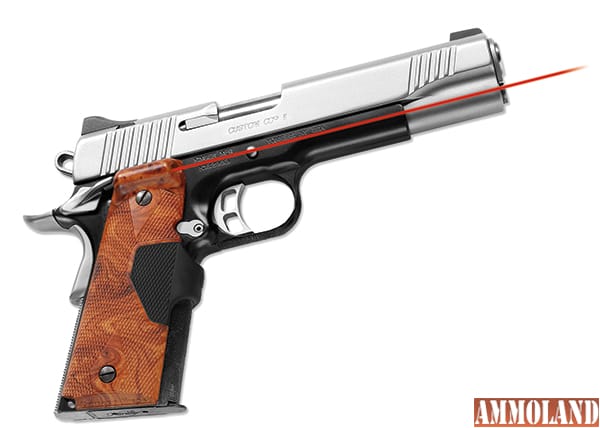 Wilsonville, OR -(AmmoLand.com)- Crimson Trace has been voted by OpticsPlanet customers as The Best Laser Sights of 2015.
The large customer base of the online optics dealer voted during the retailer's recent Brilliance Awards contest. This customer selection and recognition means Crimson Trace products leads the laser sight industry in innovation, quality, value and preferred design features.
OpticsPlanet carries nearly 150 Crimson Trace products on its website—www.opticsplanet.com. These range from the popular and compact Crimson Trace Rail Master CMR-206 with green laser diode to the replacement Lasergrip for the full-size S&W M&P pistol. Many of the Crimson Trace products can be delivered under OpticsPlanet's free two-day shipping policy.
During the voting period, OpticsPlanet customers could also vote on best-in-class fishing gear, camping equipment, riflescopes, eyewear and many other product categories. OpticsPlanet is recognized as one of the world's largest online retailers—offers more than 2,500 products—and this annual customer's choice recognition continues to grow in scope and industry recognition.
Crimson Trace offers customers many benefits, including: Free Batteries for Life on nearly all products, 24/7 customer service and support, an online retail store that's always open, plus an online dealer locator feature to help customers find a local outlet where they can experience the products first-hand.
Crimson Trace laser sights and firearm mounted lights are used by law enforcement and military units around the globe. The company produces more than 200 products and offers laser sights with green and red laser diodes. The innovative products are also well recognized for being compact, lightweight and easy to install, adjust and operate.
Crimson Trace is widely recognized as the world's leader in establishing laser sights as standard equipment on concealed-carry and personal-defense firearms. The company—located in Wilsonville, Oregon—has been manufacturing laser sighting systems and lights for firearms for more than two decades. The company's eight distinct product categories, including: Lasergrips, Rail Masters, Rail Master Pros, Laserguard, Lightguard and other groups. Full product details are at www.crimsontrace.com.
Anyone with questions can contact the company Customer Service Center at 800-442-2406.
About Crimson Trace:
Crimson Trace—based in Wilsonville, Oregon—is the acknowledged industry leader for laser sighting systems and tactical lights for firearms. The company produces award-winning innovations, including: Lasergrips and Laserguard with red and green lasers, as well as Lightguard  –all with Instinctive Activation.  Additionally, the company's product line includes the best-in-class Defender Series and Rail Master platforms – all of which are proudly designed, engineered and manufactured in the USA. Crimson Trace sets the industry standard in comprehensive customer service that is available 24/7 at 800-442-2406.
More details are available at: www.CrimsonTrace.com or by calling 800-442-2406.