Twenty bulls taken in one-week season; harvest totals 85 elk.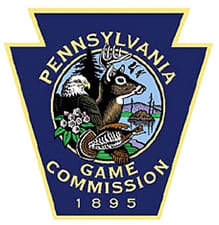 Harrisburg, PA -(AmmoLand.com)- More than 73 percent of the hunters participating Pennsylvania's 2015 elk hunt have taken home a trophy.
The Pennsylvania Game Commission today announced 85 elk were taken by hunters during the regular one-week elk season that ended Nov. 7. And for those licensed to hunt antlered elk, also known as bulls, the success rate was 95 percent.
The 2015 harvest included several large elk. Nine bulls each were estimated to weigh 700 pounds or more, with the heaviest bull taken in this year's hunt estimated at 894 pounds. That bull, which sported a 7-by-6 rack, was taken Nov. 2 by Rodney Hoover, of Martinsburg.
The largest bull in terms of rack size also was a 7-by-6, harvested Nov. 2 by Scott Martino, of Cresson. Its rack initially was measured at 387 inches, according to Boone & Crockett big-game scoring standards. That bull also was one of the heaviest, weighing an estimated 790 pounds.
The second-highest-scoring bull, taken by Timothy Iraca, of Irvona, had an 8-by-7 rack initially measured at 367 6/8 inches. That bull weighed 842 pounds. Other large bulls taken include a 7-by-7 weighing 788 pounds taken by Edward Kerlin, of Warfordsburg; a 7-by-7 weighing 761 pounds taken by Ricky Sechrist, of York; a 7-by-7 weighing 758 pounds taken by Joseph Fremer, of Brockway; a 7-by-7 weighing 751 pounds taken by David German, of Shippensburg; a 7-by-8 weighing 749 pounds taken by Michael Simmers, of Landisburg; and a 7-by-7 weighing 703 pounds taken by Michael Chippie, of Windber.
There also were some large antlerless elk taken in the harvest. Eight of the 65 cows taken by hunters during the one-week season weighed over 500 pounds. Thirty-three of the 85 elk harvested were taken on the opening day of the elk season Nov. 2.
The Pennsylvania Game Commission typically doesn't release information about license holders, but those who are drawn to participate in the annual elk hunt often give their consent to release their names or other information. Information on successful hunters who do not sign and submit a consent form prior to the hunt is not released.
To participate in the elk hunt, hunters must submit an application, then must be selected through a random drawing and purchase a license. The drawing annually attracts more than 20,000 applicants.
About Pennsylvania Game Commission:
For more than 100 years, the Game Commission has managed the Commonwealth's wildlife resources for all Pennsylvanians. With the help of more than 700 full-time employees and thousands of part-timers and volunteers, the agency provides a host of benefits to wildlife, state residents and visitors.
For more information, visit: www.pgc.state.pa.us.