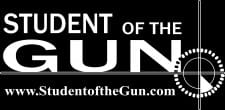 Biloxi, Mississippi –  -(Ammoland.com)- Embracing the digital era and the desire for people to access material on demand, Paul Markel and Student of the Gun have begun to release Paul's books on the Kindle Store.
Amazon Kindle customers can now purchase "Faith the the Patriot: a Belief Worth Fighting for" and also participate in their loan/borrow program.
This book provides not only the inspiration and education but the motivation to be bold, fearless and undaunted in your faith. A must read for every faithful American patriot.
Do you have to be a Coward to be a Christian? Modern Christians are portrayed as weak-willed and pacifists and both the pulpits and pews of many American churches are filled with populists and appeasers. In "Faith and the Patriot" we will examine the history of faithful leaders and American patriots. We will consider what the Bible and Church scholars have to say about justifiable use of force, even the taking of a life in self-defense and the defense of the nation.
Faith and the Patriot Topics include:
Historical Precedent
Faith and Fighting
The 21st Century Good Samaritan
Strength and the Sword
Reinvigorating the Black Regiment
& Much More.
Paperback physical copies can also be had on Amazon. Student of the Gun has a limited number of signed copies available directly from their online store.