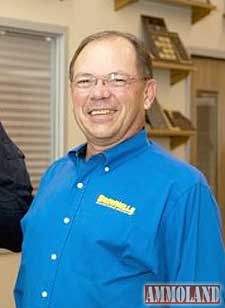 Grinnell, IA -(AmmoLand.com)- Whooee – almost time for the big after Thanksgiving Sale Day. . . Black Friday! But we don't want to wait. We want to repeat our BACK IN BLACK SALES EVENT we started last year.
Why limit the good stuff to just one "Friday" with a follow-up on Monday when we can do a sale each of the three weeks before Thanksgiving and still top it off with the Black Friday blowout? Seemed logical to us here. Soooo… We're offering three weeks of Black Friday deals, starting on Monday, November 9. On that day and the next two Mondays (16th and 23rd), we'll kick off another whole new week-long sale.
We'll have very special sales on AR-15 parts, accessories, and ammo, with some real blast-out deals on "Black Rifle Friday" itself, November 27. But, no matter what you shoot or what gun you fancy, we'll have something for you. Just keep checking Brownells.com.
A New Catalog – Speaking of the AR-15, be on the lookout for our latest-and-greatest AR-15/M16 Catalog #11. The first pallets of catalogs were shipping out as I sat down to write this, and they should be arriving in your mail boxes very soon – hopefully yours has already arrived. If you don't receive one, please order a free copy right now. It's worth having just for the snazzy rifle photo on the cover and the mouth-watering Dream Guns inside. (Boy, do I love the "Dream Guns" the gang put in this issue!)
Plus, it's loaded with all the best Black Rifle goodies you can imagine. You're going to find something you're just gonna hafta get for your AR! Being a devoted AR lover myself, this catalog is a major drool-over piece of printing. When I said that to the catalog team who put it together, they told me they'd look into printing one for me on plastic so I wouldn't smudge the pages!
A Time To Hunt – I hope you've had a chance to get out and chase deer or turkey or the critter you prefer. A bunch of Brownells folks have already been out for the archery deer season followed by the early muzzleloader season. We've had some really nice, summer-like weather for it, too.
When you think about it, hunting is an ancient and respected American tradition. For thousands of years, hunting sustained the original inhabitants of North America. Hunting helped feed the settlers at Jamestown and furnished the Pilgrims' table at the first Thanksgiving. Modern American hunting, with its emphasis on sensible and sustainable game management, has helped preserve habitat and restore animal populations all across this country.
Much of that habitat preservation and wildlife conservation is paid for by us, indirectly, every time we buy guns and ammo. Under the Pittman-Robertson Act of 1937, manufacturers, producers and importers are charged an excise tax on the wholesale price of guns and ammo. This money is distributed to state wildlife agencies to support wildlife management and education programs for hunters and shooters. To see how it works, and how much money it's raised, look at this NSSF fact sheet. Even if you aren't a hunter, every single firearm you purchase and every single round of ammo you shoot helps maintain America's wild animals and wild places. If you need another excuse to buy more ammo, just tell yourself, "Hey, I'm helping preserve wildlife and a centuries-old tradition for my kids and grandkids!"
The last few years, we've heard more and more about folks who may not fit your idea of the "average hunter" getting into hunting, like the people profiled in this article from Hunter-Ed.com. They've discovered what we've always known: deer and other game animals provide tasty, healthy, locally-grown meat. You can't get any more "organic" and "free range" than a whitetail! Ain't no nitrates or other chemical stuff in its diet!!
All of us experienced hunters and gun owners should recognize how great this new trend is. We need more hunters. If you know somebody who's just starting out, please consider taking them under your wing, so to speak. Make sure they get to a Hunter Safety course and learn the right way to do it. When they're ready, maybe even take them along to deer camp or on a turkey hunt. Get them out there and involved. Get 'em hooked.
So what have we been up to here at Brownells? – The smart folks over at Apex Tactical just keep coming up with more parts and accessories that make pistol shooting easier and more rewarding. Their Action Enhancement Trigger for Glock pistols is a drop-in replacement for the factory trigger that smooths and shortens the overall trigger pull – reduces both pre-travel and reset – and delivers a crisp, clean break. If you're not a fan of the Glock trigger, or even if you're OK with it but figure it could be better, give this a try! Personally, I never "favored", as my grandma used to say, the Glock trigger. Probably the old-guy arthritis messing up my "feel" of what was going on. This little jewel makes me just a whole lot happier!
ATN's THOR 336 Thermal Sight doesn't exactly give you X-ray vision, but it does detect infrared light (heat), so you can see through fog, smoke, or a pitch dark night. If you like to chase feral hogs, or hunt varmints or predators at night, this puts a whole new "light" on your hunt. It's truly amazing how advanced some of this "sci-fi" technology is getting. I wonder what some of the old-timers would think, if they had a chance to use something like a thermal sight. For me, it's just way cool! Who'd a thunk it?
If you'd like to see at night, but don't necessarily need "heat vision", Streamlight's new TLR-2 HLG gun-mounted light has you covered. It combines a powerful white LED light (720 lumens, if you're counting – WOW, that's bright!) with a green aiming laser. Green lasers cost a bit more than traditional red lasers, but they have a much longer range. The lightweight TLR-2 is small, and it mounts directly to a Picatinny rail or any of the modern pistol rail systems (Glock, Smith & Wesson, Beretta), making it a perfect enhancement for your home-defense gun. Just takes the guesswork out of where you're aiming. This ol' timer loves it. These eyes need all the help they can get.
More and more folks are choosing to add laser sights to their carry guns. We're offering some Crimson Trace package deals to make it easy. We have Laserguard laser sights for the Glock 42/43, Smith & Wesson M&P Shield, and Springfield XD-S, paired up with Blade-Tech holsters specially made for guns fitted with the Laserguard. And, you can choose between red or green lasers.
Stay Informed – The 2016 Presidential election is still a little more than a year away, but I hope you're paying attention to the candidates now. Take time to learn and understand what they think and say about gun rights. Some of them sound pretty promising on gun rights, while others definitely don't. Recently, one specifically called out the NRA as the "enemy". I don't think it takes a rocket scientist to figure out where a politician really stands on the Second Amendment when he/she publically labels the NRA as an enemy.
If you aren't a member of the NRA yet, I sure hope you join. The more members the NRA has, the more careful candidates will be about getting on the wrong side of this growing group of voters. If you know people who like to hunt and shoot and who own guns, but aren't NRA members yet, ask them to join, too. Or better yet, buy them a membership as an early Christmas present. Did you know you can get $10 off an annual NRA membership on the Brownells website? Check it out.
Remember this: the next President will appoint one or more justices to the Supreme Court. To keep our rights, it's vital that a President who supports the Second Amendment is the one making those appointments, not somebody who sees gun owners as the "enemy".
As tiring as all the politics around guns can get, we have to get involved if we want to preserve our rights. Just don't get so deep in the political weeds that you forget to go to the range, the woods, or the field and have some fun.
Most important, don't forget Thanksgiving is coming up. We have much to be thankful for – the freedoms all Americans enjoy, our hunting and shooting heritage, and the chance to take a break from our busy daily lives and spend time with the people who mean the most to us.
Also, in your Thanksgiving prayers, be sure to remember our kids and grandkids who are in the military and law enforcement keeping these rights and privileges safe for us.
About Brownells:
Serious About Firearms Since 1939, Brownells is the world's leading source for gun parts and accessories, ammunition, gunsmithing tools, survival gear and archery. With a large selection of both common and hard-to-find items, and an extensive collection of videos, articles, and gun schematics, Brownells is the expert for everything shooting-related. Committed to maintaining our great traditions, Brownells has more, does more and knows more – and guarantees it all, Forever. Stay up-to-date with Brownells on Facebook, Twitter and Instagram.
For more information or to place an order, call 800-741-0015 or visit www.Brownells.com.