The December '15/January '16 issue of Field & Stream is on newsstands and the iPad today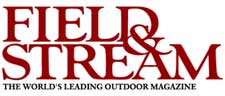 New York, NY -(AmmoLand.com)- Feast Your Eyes: A strong argument can be made that the ultimate trophy is the game and fish you bring home for dinner. Here are recipes and tips to help you cook that meat in ways that taste delicious and look stunning.
From a leg of venison on a string to a deep fried wild turkey to tips on a wild game party, Field & Stream has you eating great for this season and next. Page 82
Lucky Me: When the author unexpectedly drew a mountain goat tag, he was forced to confront the possibility of shooting an animal he had little interest in killing. That is, assuming the dangerous country didn't kill him first. Page 60
Cold Steel: The diehard steelheader on the Great Lakes tributaries can't wait for winter, because the folks who crowd those waters during the fall will be gone. When the going gets frosty, play dirty for winter fly-rod chrome. Page 30
Name Your Prize: Field & Stream conducted a reader survey to give everyone a chance to tell their opinions on hunting and fishing trophies. The editors were genuinely curious about where their fans stood on trophies, and what their idea of a trophy really is. A freezer full of meat? A mount for your home? Time spent outside? The results are fascinating. Page 74
Heroes of Conservation: A backcountry advocate keeps intact wild public land on the Rocky Mountain Front. Greg Munther in Missoula, Montana battled against a state plan to create road access to the Marias River through the 5,845-acre Marias River Wildlife Management Area, saving it from certain irrevocable change. Page 37
Hidden Gems: Not every trophy is a wall-hanger. Throughout the issue, Field & Stream's editors and writers share the stories of their favorite, and more personal, outdoor treasures. From a pair of battered Budweiser cans to an ancient walkie-talkie, here are the keepsakes the pros just can't shake.
Holiday Gift Guide: Sportsmen are notoriously hard to shop for. Say you know your obsessed bass angler favors Gamakatsu extra-wide-gap 4/0 worm hooks with an offset shank. You knock yourself out to get those exact hooks, only to see a lopsided smile and overloud, "wonderful!" upon opening: a telltale sign that he actually wanted the worm hooks designed for superline rather than regular line. Tiny distinction, yes, but bass nuts notice these things. So, we made it easy: Here are the 22 gifts that Field & Stream editors really want this year. Page 98
Subscribe to Field & Stream Magazine through Amazon : http://tiny.cc/y6rkxx