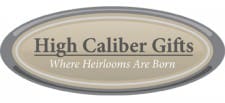 Aiken, SC –  -(Ammoland.com)- For countless years, the gift of a special firearm has been a special Christmas tradition that provides life-long memories for both giver and recipient.
With the theme of "Where Heirlooms Begin", High Caliber Gifts, LTD is helping bring the gift of a firearm to a completely new level by offering reasonably priced custom engraving for Christmas firearms and other special occasions.
"We can't compete with the gift of a rifle or shotgun that belonged to Dad or Granddad and we would never try," commented Bob Delfay, founder of High Caliber Gifts and a 40-year veteran of the firearms industry. "But if someone is considering the gift of a brand new gun as a Christmas gift, we can help create a gift that is sure to become a family heirloom."

"We have created a one-of-a-kind gun for a Grandfather to present to his first grandchild as well as a themed edition for a proud employer to present to all of 22 of his employees," Delfay said. "It is truly enjoyable and gratifying to work with firearms enthusiasts to help create future heirlooms."
While each gun is a custom creation, High Caliber Gifts offers some suggested engraving designs and inscriptions to help with the design process and to reduce the cost. One option features a gold-engraved Santa placing a wrapped firearm under the Christmas tree. Another shows a young boy or girl opening the gift. For the more traditionally minded, there is the option of a brass oval engraved with a special message and inlayed in the stock of the firearm.
A series of special Henry rifles with custom Christmas-themed serial numbers can be viewed at http://www.gunbroker.com/Auction/ViewItem.aspx?Item=523320243
Prices range from $630.00 for a Henry "Silver Boy" .22 with .24 carat gold engraving on both sides of receiver to $935.00 for a Henry "Big Boy" high caliber rifle with engraved oval plate.
Options are detailed at www.HighCaliberGifts.com.