New for 2016, Inland Manufacturing introduces the M1 Advisor Pistol…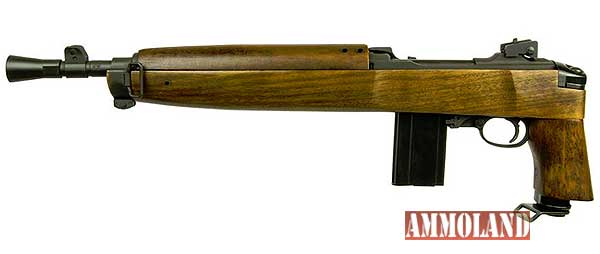 Dayton, Ohio – -(Ammoland.com)- Inland Manufacturing, LLC is proud to introduce the Advisor M1 Pistol that will be available in March, 2016.
The new "Advisor", Inland's M1 pistol features many of the same characteristics of the original Inland Carbines and are manufactured in the USA!
The "Advisor" M1 pistol is modeled after the modified M1 carbines that was a popular conversion made by US Military Advisors during the Vietnam Era .
These "Military Advisors" found that the compact and reliable M1 carbine could be made even more suitable for their specific missions by cutting the barrels down to pistol lengths and utilizing either a cut down standard stock or the M1A1 folding stock, the folder was the stock of choice if they could get their hands on one.
These modified M1 carbines, like the Inland Manufacturing M1 Advisor Pistol, were favored by the US Military Advisors as well as the Tunnel Rats tasked with clearing the matrix of tunnels and engaging in extreme close quarters.
The new for 2016 Inland Advisor, chambered in .30 carbine, features a 12" barrel with type 2 barrel band, adjustable rearsights, push button safety, round bolt, and a "low wood" walnut stock modified M1A1 stock minus the wire portion of the stock making the "Advisor" a legal pistol. The Advisor includes a 15 round magazine and utilizes a 30 rd mag catch to allow high capacity magazines. The barrel flash hider is a conical flashider and is threaded 1/2" x 28 tpi allowing the use of your favorite accessories with the same threads!
The modifications to the Inland Manufacturing M1 Advisor Pistol's M1A1 Stock does allow for the re-attachment of the wire portion of the stock, however NFA rules do apply.
For more information regarding Inland products, contact Supply, 8611-A North Dixie Drive, Dayton, Ohio 45414, (877) 425-4867, email MKS Supply at www.mkssupply.com
MKS Supply is the exclusive distributor of Inland Products, including the Inland Manufacturing M1 Advisor Pistol, in the United States About Inland Manufacturing, LLC With its roots firmly planted in Dayton, Ohio, Inland Manufacturing, LLC is a private entity that is now producing replicas of the ever popular M1 Carbine and M1A1 Paratrooper model that was built by the original Inland Division of General Motorsfrom 1941 to 1945.
Inland Manufacturing, LLC was founded in 2013 with a commitment to provide the highest quality firearm related productsfor the practical shooting enthusiast.
The Inland Manufacturing team has over 50 years of combined firearm related experience and applied knowledge in firearm design, manufacturing as well as experience in military, law enforcement, and competitive shooting sports. Inland Manufacturing is a veteran owned and operated business.