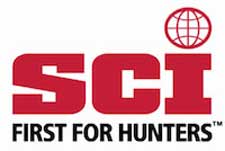 Tucson, AZ -(AmmoLand.com)- MidwayUSA; one of the largest privately held retailers of hunting, shooting and outdoor products, with a focus on customer service and satisfaction, has renewed its corporate sponsorship with Safari Club International (SCI).
"Brenda and I are passionate hunters and strong advocates for wildlife conservation," said Larry Potterfield, Founder and CEO of MidwayUSA. "As sportsmen, it's our responsibility to fight for and support those organizations that we closely align with; that's why all of us here at MidwayUSA are proud to partner with SCI, an organization dedicated to protecting the freedom to hunt and promoting wildlife conservation worldwide."

"We are pleased to be partnered with such stalwart allies in the fight to protect and defend our hunting heritage," said Phil DeLone, CEO of SCI. "Larry Potterfield and the entire MidwayUSA operation dovetail perfectly with the global mission of SCI."
MidwayUSA's commitment to conservation, hunter's rights and firearm ownership continues to set a standard for the outdoor industry. In October, Larry and Brenda Potterfield donated $184,045 to the MidwayUSA Foundation—as part of their matching program to benefit youth shooting sports. The couple also received the John L. Morris award in recognition of their exemplary leadership in conservation and lifetime commitment to fish and wildlife stewardship from the Association of Fish & Wildlife Agencies in September.
About MidwayUSA:
Both country kids from Missouri, Larry and Brenda Potterfield turned their passion for shooting sports into a career by opening a small gun shop in 1977 that would eventually become MidwayUSA (www.midwayusa.com). They instilled family values like honesty, integrity and respect for others into the business, and strive to maintain this culture with each Employee added to their growing team. For over 38 years, MidwayUSA has offered JUST ABOUT EVERYTHING for Shooting, Reloading, Gunsmithing and Hunting with an unyielding focus on Customer Satisfaction.
For more information on MidwayUSA, visit their website (www.midwayusa.com), find them on Facebook (www.facebook.com/OfficialMidwayUSA), or follow them on Twitter (http://twitter.com/midwayusa).
About Safari Club International:
Safari Club International – First For Hunters is the leader in protecting the freedom to hunt and in promoting wildlife conservation worldwide. SCI's approximately 200 Chapters represent all 50 of the United States as well as 106 other countries. SCI's proactive leadership in a host of cooperative wildlife conservation, outdoor education and humanitarian programs, with the SCI Foundation and other conservation groups, research institutions and government agencies, empowers sportsmen to be contributing community members and participants in sound wildlife management and conservation.
Visit the home page www.SafariClub.org, or call (520) 620-1220 for more information.