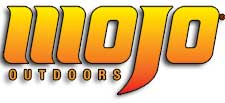 Monroe, LA -(AmmoLand.com)- MOJO Outdoors would like to thank their fans, sponsors and the media for the unbelievable support and participation in our MOJO TV Facebook Page.
We have surpassed the 500,000 fan mark in less than two years. Even more astonishing, we have 7-day post reach as high as 80 million and 7-day engagements up to 5-million, making it one of the most popular destinations in all of the outdoor industry.
Available at https://www.facebook.com/MOJOOutdoorsTV our page allows the viewer to keep up with the MOJO Crew, see photos and videos from hunts and trips, and view entertaining posts from the outdoor lifestyle. Especially popular are the short videos we produce from our hunts bringing the "sights, sounds and smells" of the hunt to the viewer. Add interesting news of the outdoor world and it is easy to see why this site is so popular.
Terry Denmon, President & CEO of Mojo Outdoors, said "Facebook has become one of the strongest promotional tools not only for the Mojo brand but also for our sponsors and our outfitter friends with whom we film our shows. Mojo TV and Mojo Facebook has become a powerful promotional combination."
We look forward to our next milestone of one million fans and more with even higher engagement, which we will do by bringing the fans what they want.
A big THANK YOU to all and an invitation to keep watching as we will continue to work hard to bring to our fans information, entertainment and news in the Facebook style.
About MOJO TV:
MOJO TV is an honest, real life television series that follows Team MOJO as they comb the globe in search of exciting and informative hunts to bring to the viewer. In the course of capturing these hunts on film, Team MOJO is constantly searching for what is needed by hunters with the goal of continuing their history of bringing game changing products to the market. PLUS, sharing their extensive experience with the viewer. In short, it's real hunting with a "what else is needed" flair and "share what we know and learn" with the viewer.
About MOJO:
MOJO has long been recognized as the World Leader in Motion Decoys and progressed as the leader in All Decoys. Today, MOJO is a company unsurpassed in bringing a wide variety of innovative outdoor products to the market that revolutionizes the outdoor experience.
See more at www.mojooutdoors.com