Highest quail numbers in 16 years mobilize volunteers for habitat conservation efforts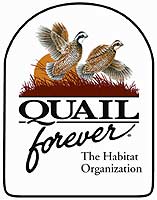 Harlingen, TX -(AmmoLand.com)- Quail hunters and conservationists in South Texas have added a new chapter of Quail Forever in Cameron, Willacy, and Hidalgo counties.
Officially known as the Rio Grande Valley Chapter of Quail Forever, volunteers are focusing on habitat improvements and conservation education to create positive impacts for bobwhite quail, scaled quail, and other wildlife in South Texas.
"South Texas has a long-standing and time-honored tradition of quail hunting, which the local chapter aims to promote and protect through wildlife habitat conservation projects," stated Laura McIver, regional field representative for Quail Forever in Texas. "The Rio Grande Valley Chapter of Quail Forever has expanded the organization's influence to the southernmost reaches of the United States – these passionate volunteers are going to make a difference for bobwhite quail and other wildlife in South Texas."
Thanks to much-needed precipitation throughout the state, most regions of Texas have seen a quail population boom for the 2015-2016 hunting season. In the South Texas Plains region specifically, state biologists reported large quail broods and multiple age classes during the 2015 roadside surveys conducted by the Texas Parks and Wildlife Department – the average number of bobwhites observed per route was 21.1, the highest recorded total since 1999. The Rio Grande Valley Chapter of Quail Forever hopes to work closely with state agencies and other partners on habitat projects to help quail populations continue trending in a positive direction.
Quail Forever is committed to helping chapters succeed in the South Texas Plains by further developing working relationships with like-minded organizations and state agencies including, but not limited to: Texas Parks and Wildlife Department, Natural Resources Conservation Service, Caesar Kleberg Wildlife Research Institute, Texas A&M University-Kingsville, Quail Coalition, and Texas Wildlife Association.
Rio Grande Valley Chapter of Quail Forever:
The Rio Grande Valley Chapter of Quail Forever has elected Alberto Galvan of Lozano as president, Josie Escamilla of San Benito as vice president, Michael LaCasse of San Benito as treasurer, Sulema Argullia of Lozano as secretary, and Willie Galvan of Lozano as youth/education coordinator.
For more information about the chapter or to become involved, please contact chapter president, Alberto Galvan, at (956) 245-5921 or email.
Texas is home to eight chapters of Quail Forever, and over 1,750 members of "The Habitat Organization." For more information about Quail Forever in Texas, contact Laura McIver at (907) 750-2600 or email.
About Quail Forever:
Pheasants Forever, including its quail conservation division, Quail Forever, is the nation's largest nonprofit organization dedicated to upland habitat conservation. Pheasants Forever and Quail Forever have more than 140,000 members and 700 local chapters across the United States and Canada. Chapters are empowered to determine how 100 percent of their locally raised conservation funds are spent; the only national conservation organization that operates through this truly grassroots structure. Since creation in 1982, Pheasants Forever has spent $577 million on 489,000 habitat projects benefiting 12 million acres nationwide.
For more information, visit: www.QuailForever.org.