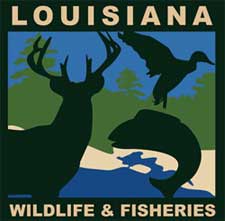 Louisiana -(Ammoland.com)- Louisiana Department of Wildlife and Fisheries enforcement agents cited a Newellton man for night hunting violations on Nov. 18 2015 in Tensas Parish.
Agents cited Mica G. Adair, 29, for taking deer during illegal hours, taking over the limit of antlered deer, not possessing basic and big game hunting licenses, and failing to comply with deer tagging requirements.
Agents received a tip about Adair hunting deer at night and went to his residence for further investigation. Agents observed four antlered deer heads in the back of Adair's truck.
Upon questioning, Adair admitted to harvesting a deer on Nov. 8, Nov. 11, Nov. 13 and Nov. 15 all at night in Tensas Parish. The season limit is three antlered deer putting Adair one over the limit.
Taking deer during illegal hours brings a $900 to $950 fine and up to 120 days in jail. Possessing over the limit of deer carries a $250 to $500 fine and up to 90 days in jail. Failing to comply with deer tagging requirements brings a $100 to $350 fine and up to 60 days in jail. Not possessing basic and big game licenses each brings a $50 fine and up to 15 days in jail.
Adair may also face a civil restitution penalty totaling $6,907 for the illegally taken deer.
Agents involved in the case are Sgt. John Hendrix, Senior Agent Johnny Wilson and Agent Clinton Branton.
For more information, contact Adam Einck at 225-765-2465 or [email protected]