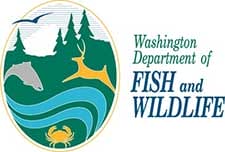 Washington -(Ammoland.com)- There's more than one way to put a turkey on your table for Thanksgiving.
Rather than head to the grocery store, thousands of hunters plan to get their birds during the hunting season for wild turkey that gets under way Nov. 20 in eastern Washington.
Then again, who says turkey has to be the center of attention on Thanksgiving Day? November is also prime time to hunt ducks, geese, elk, deer, pheasant, and a variety of other game around the state.
"Waterfowl hunting usually picks up around the middle of the month, when the wet and windy weather starts pushing more migrating birds into the area from the north," said Mick Cope, game manager for the Washington Department of Fish and Wildlife (WDFW). "That's good news for waterfowl hunters from the Skagit Valley to the Columbia Basin."
Cope reminds hunters that WDFW is accepting photos of hunters with disabilities for the 2016 Big Game Hunting Pamphlet Cover Photo Contest. This year's theme is "Finding Inner Strength," a tribute to hunters with disabilities, in commemoration of the 25th anniversary of the federal Americans with Disabilities Act.
"It's a great opportunity to celebrate thousands of Washington hunters – and their hunting companions – who overcome unique challenges every year to find success in the field," Cope said. More information is available on WDFW's website at http://wdfw.wa.gov/sharephotos/contest.html.
For anglers, Thanksgiving traditionally marks the start of winter steelhead fishing in western Washington. On the eastside, anglers are reeling in summer-run hatchery steelhead from the upper Columbia River and several major tributaries.
Rather serve shellfish? Most areas of Puget Sound are currently open for crab fishing. The daily catch limit in Puget Sound is five Dungeness crab, males only, in hard-shell condition with a minimum carapace width of 6¼ inches. In addition, fishers may catch six red rock crab of either sex per day, provided those crab measure at least 5 inches across. Additional information is available on WDFW's website at http://wdfw.wa.gov/fishing/shellfish/crab/.
For more information about fishing, hunting and wildlife viewing available in November, see the Weekender Regional Reports posted on WDFW's website at wdfw.wa.gov/weekender/. These reports are updated throughout the month to provide current information about recreational opportunities around the state.