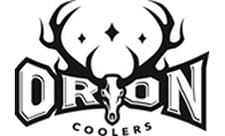 Bozeman, MT -(AmmoLand.com)- Randy Newberg, Hunter is partnering with Orion Coolers in 2015-2016 to include the premium, rugged coolers within digital and social engagement on Newberg's HuntTalk Forum and Randy Newberg Unfiltered Radio.
Newberg will also show his TV fans how he uses Orion Coolers by integrating the product on Leupold's Fresh Tracks with Randy Newberg airing on Sportsman Channel. Orion Coolers are the perfect companion for avid outdoorsmen like Newberg.
Newberg is the leading advocate for the self-guided hunter.
"My experience is Orion Coolers have stood the test of being thrown in the back of the truck for my western hunts to being stood on, sat on and of course, packing out my meat safely," stated Newberg. "Orion not only makes a variety of sizes for any outdoorsman, but also their coolers have so many options, like tie-down points and low-profile locks, that the other cooler companies just don't offer."
Newberg will also review Orion Coolers further in his bi-weekly podcast, "Randy Newberg Unfiltered" available on iTunes and Stitcher where his audience has come to trust Newberg's straight talk and advice.
Orion Coolers Brand Manager Damon Bungard discussed the partnership, "As one who very much enjoys backcountry adventures on my own on public land, I'm very excited to team up Orion Coolers with Randy Newburg. He represents the highest ethics, always sets an example for conservation, and promoting hunting and all it has to offer."
Learn more at RandyNewberg.Com, Facebook.com/RandyNewberg, Instagram.Com/RandyNewbergHunter and OrionCoolers.com.
About Orion Coolers:
Based in Sparta, TN, Orion Coolers produces premium rugged coolers with enhanced features and durable performance. The Orion Cooler team of designers, molding experts, hunters, anglers and kayakers is committed to developing products that will perform in the harshest environments. All products are field tested in extreme conditions by a team of dedicated outdoor enthusiasts before new designs are approved and released to the public. Orion Coolers are produced alongside Jackson Kayak known for exceptional whitewater kayaks, fishing kayaks, recreational kayaks and stand up paddleboards. Orion Coolers. Never Lose Your Cool.
Learn more at OrionCoolers.Com.
About Randy Newberg, Hunter:
Randy Newberg is the voice of the public land hunter in America.  Decades of hunting all species across public lands has provided both the experience and perspective that has allowed him to become the leading advocate for the self-guided hunter; hunters dependent upon public lands for hunting access. With his popular TV show, Leupold's Fresh Tracks with Randy Newberg airing on Sportsman Channel, accompanied by the long-standing Hunt Talk web forum, Newberg is looked to for advocacy and leadership as hunting and access issues become politicized. Now added to those platforms is the Hunt Talk Podcast where Newberg discusses relevant issues to hunters – unfiltered. Visit RandyNewberg.Com to download the bi-weekly podcast, information to download the weekly TV show and log in to the Hunt Talk forum. Subscribe to Randy Newberg's YouTube channel to get tips, behind the scenes, and ideas for the western big game hunter.
Learn more at RandyNewberg.Com, http://Facebook.com/RandyNewberg and http://Instagram.Com/RandyNewbergHunter.