By RJ Renner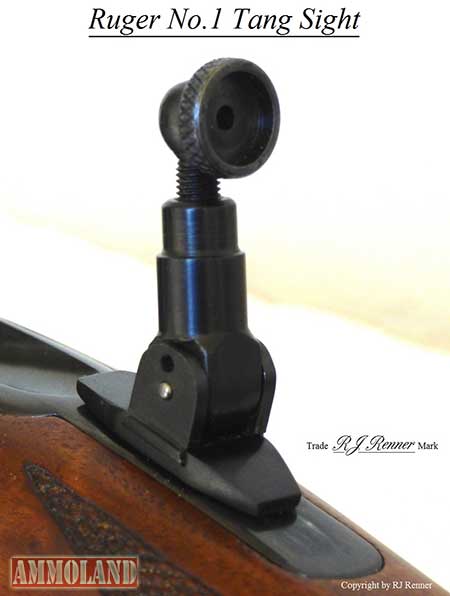 USA –  -(Ammoland.com)- If you are an iron sight hunter, the Ruger No 1-A and 1-S rifles are one of the best Stalking Rifles to come down the pike.
However, for decades I have sought a good peep sight for those occasional long shots. But, I was unable to find one that didn't become the dominant, or only rear sight. I wanted something that was instantly available when I needed it but out of the way when I didn't.
The current breed of aperture sights for the Ruger No.1 are perched on the rib and not only become the only rear sight, they are generally so high as to require a higher front sight to achieve a 100-yard zero.
What was needed was a folding tang sight like those used on classic old-time single shot and lever action rifles. But how to attach it and keep a functional safety was the challenge.
The Ruger No. 1 has a simple and effective sliding tang safety which is essential on a hunting rifle. But, that safety gets in the way if you wish to install any type of tang sight.
After much study of the problem, it became apparent that the Number One safety has the unique characteristic of returning to a fixed position, a "zero" so to speak, when pushed forward into the Fire position. This is the same attribute that one finds in a good auto pistol where the slide always locks up at the same zero point. That is essential to accuracy.
It became apparent that because of this wonderful re-zeroing feature, the safety could also serve as a base for a tang sight. After much R&D, the result is the Renner No.1 Tang Sight.
The Renner No.1 Tang Sight is adjustable for both windage and elevation and does not require a higher front sight in order to zero the rifle at shorter, open-sight distances. The shooter can continue to use the factory folding rear sight and simply fold it down and flip up the Renner No.1 Tang Sight when needed. A ball detent feature holds the sight in the upright position when shooting.
Some have asked if the Renner No.1 Tang Sight will fit the Ruger No.3 carbines and the answer is Yes, our sight will work equally well with either the No.1 or No.3 rifles.
The cost of the Renner No.1 Tang Sight is $250.00 which includes postage within the United States.
Because of the uncertainty of the market, we will only make this sight in small batches. When sold out, we'll make another batch. Contact us for current availability.
For more information please logon to our page: www.rjrenner.simplesite.com , email us at: [email protected], or call us at 775-453-9355, or you may write to: PO Box 50743, Sparks, Nevada 89435.
Also visit : www.rjrenner.blogspot.com/ for more of RJ Renner's wonderful custom gun work.