Many Thanks to Texas Governor Greg Abbott for Supporting Prop6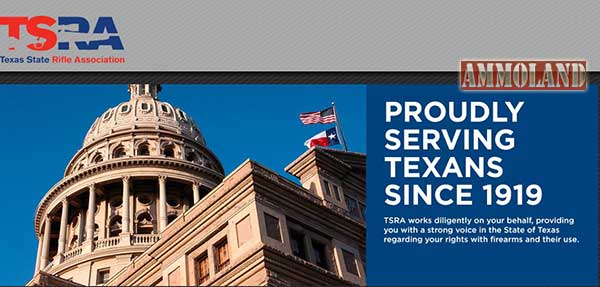 Austin, TX -(AmmoLand.com)- What's at risk if we fail?
Future Texans could lose the right to hunt and fish by "traditional methods" meaning bows, rifles, handguns, shotguns, traps, hooks, lines and nets.
Hunting and fishing traditions could be replaced by pen-raised, farm-raised, or by pharmaceutical methods of animal management viewed in the future as more humane.
Will this happen soon?
Probably not, however as Texas doubles in population, the concerns and the threats will compound. The time to act is now.
Texas sportsmen and women have a window in time, right here-right now, and join with 18 other states committed to protecting hunting and fishing heritage.
Who Supports Prop 6 besides NRA and TSRA? Every hunting and fishing association in the state of Texas.
Including: Ducks Unlimited, Austin Woods and Waters, Central Texas SCI, Dallas Safari Club, Exotic Wildlife Association, National Wild Turkey Federation, Pheasants Forever, Saltwater-Fisheries Enhancement Association, San Antonio Metropolitan League of Bass Clubs, Texas B.A.S.S. Nation, Texas Bighorn Society, Texas Black Bass Association, Texas Chapters of the Mule Deer Foundation, Texas Chapters of Quail Forever, Texas Dove Hunters Association, Texas Forestry Association, Texas Hawking Association, Texas Organization of Wildlife Management Associations, Texas Trophy Hunters Association, Texas Dog Hunters Association, Texas Deer Association, Texas Trophy Hunter's and Wildlife Habitat Federation.
The Origin of Prop 6 Language?  
SJR 22 by Senator Brandon Creighton (R-Conroe) and Representative Trent Ashby (R-Lufkin) provided the language for Prop 6 which passed both Chambers of the Texas Legislature by the required 2/3s vote. Now the measure goes to the electorate for approval.
The bill summary reads as follows: Summary.
Election Day is Tuesday, November 3rd.
Thank you to all the new and renewed members across Texas! TSRA PAC is a registered Political Action Committee fund.
About the Texas State Rifle Association:
Headquartered in Austin, Texas, the Texas State Rifle Association is a non-profit organization dedicated to defending the rights of law-abiding Texans to own, enjoy and use firearms as guaranteed by the Constitutions of the State of Texas and the United States of America. TSRA represents Texas gun owners before the state legislature, and is the NRA state affiliate association.
For more information on membership or supporting the Texas State Rifle Association, call 512.615.4200 or visit www.tsra.com.