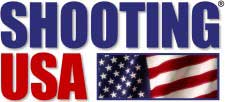 Nashville, TN -(AmmoLand.com)- Shooting USA – The U.S. Steel Nationals
How fast can you draw and shoot 5 steel targets? The answer is very fast indeed when the Pros compete in the Smith & Wesson Steel Nationals in Florida.
Plus, the enemy pistol of World War Two, The Japanese Nambu Type 94, that's now one of History's Guns. And 500 bowhunters compete in 3D Archery in the IBO National Championship.
Shooting USA's Impossible Shots – Byron's Cards
Julie Golob hosts as Byron Ferguson attempts to cut cards with a broadhead. It's all in the timing with a spinning arrow flying to make the cut on not just one card but also three with a single arrow. Plus, a classic shot from the late Bob Munden, nicking a nickel, and then a dime off a target stand with a .45 caliber bullet. 
AIR TIMES BY TIME ZONE
The Shooting USA Hour Wednesday:
Eastern Time: 3:00PM, 9:00PM, 12:00 AM Thursday
Central Time: 2:00 PM, 8:00 PM, 11:00 PM
Mountain Time: 1:00 PM, 7:00 PM, 10:00 PM
Pacific Time: 12:00 Noon, 6:00 PM, 9:00 PM
Shooting USA is listed as a one-hour show in your cable menu.
Shooting USA's Impossible Shots:
Wednesday:
Eastern Time:  7:30 PM, 11:30 PM, 2:00 AM Thursday
Central Time:  6:30 PM, 10:30 PM, 1:00 AM Thursday
Mountain Time: 5:30 PM, 9:30 PM, 12:00 Midnight
Pacific Time: 4:30 PM, 8:30 PM, 11:00 PM
Shooting USA Special Offer
We have the perfect gift for a special someone! The $50 Shooting USA Christmas Special incudes your choice of hat, two Shooting USA patches, and Shooting USA Rail Covers, plus free shipping!
http://www.shootingusastore.com/items/special-offers/shooting-usa-holiday-special-detail.htm
Exclusive NRA Membership Offer
For a limited time, you can become a Life Member of the NRA for $500. Shooting USA is offering an exclusive discount until December 31. NRA dues increase to $1,500 on January 1. Join today:
Stay Connected
Be sure to "Like" Shooting USA on Facebook for behind-the-scenes coverage: https://www.facebook.com/JimScoutten.ShootingUSA
And, on Instagram!
https://instagram.com/shootingusa
Jim
Defending the 2nd by Example in the 22st Year
[email protected]
About Shooting USA:
Jim Scoutten, America's Most Watched Firearms Reporter, has been on the beat for 14 years, reporting the stories of the Shooting Sports and the firearms Industry. The show produces a series of popular segments focusing on historical guns, the personalities in the sport and industry, insider reports from gun tests, and practical tips from shooting sports pros. The show appeals to shooting sports enthusiasts of all ages and skill levels by providing practical tips on safely handling, modifying and repairing their favorite guns.
For more information, please visit www.ShootingUSA.com.