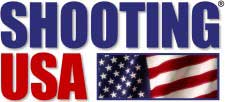 Nashville, TN -(AmmoLand.com)- Shooting USA – Cadet Combat Championship  
It's competition that simulates combat for Army, Navy, and Coast Guard cadets, building their skills for the future. Plus, the NRA Annual Meeting comes to town with 78,000 members showing up in Nashville. And Julie Golob has a Pro Tip that takes just one box of ammo to keep your concealed carry skills sharp.
Shooting USA's Impossible Shots – Welcome Back Randy
Julie Golob is your host as Randy Oitker returns to show off his Guinness World Record and tell the story behind his eye injury that threatened his future as an exhibition pro shooter. Plus, Master Gunfighter, Cisko is racing through two targets with two shots at Impossible speed.
AIR TIMES BY TIME ZONE
The Shooting USA Hour Wednesday:
Eastern Time: 3:00PM, 9:00PM, 12:00 AM Thursday
Central Time: 2:00 PM, 8:00 PM, 11:00 PM
Mountain Time: 1:00 PM, 7:00 PM, 10:00 PM
Pacific Time: 12:00 Noon, 6:00 PM, 9:00 PM
Shooting USA is listed as a one-hour show in your cable menu.
Shooting USA's Impossible Shots:
Wednesday:
Eastern Time:  7:30 PM, 11:30 PM, 2:00 AM Thursday
Central Time:  6:30 PM, 10:30 PM, 1:00 AM Thursday
Mountain Time: 5:30 PM, 9:30 PM, 12:00 Midnight
Pacific Time: 4:30 PM, 8:30 PM, 11:00 PM
World Speed Shooting Championship
It's drag racing on steel. John is headed to the Steel Challenge in sunny California, where the top pistol shooters in the world compete. It's the fastest shooting you'll see on five steel targets. We'll have the action for you in the coming weeks.
Stay Connected
Be sure to "Like" Shooting USA on Facebook for behind-the-scenes coverage: https://www.facebook.com/JimScoutten.ShootingUSA
And, on Instagram!
https://instagram.com/shootingusa
Jim
Defending the 2nd by Example in the 22st Year
[email protected]
About Shooting USA:
Jim Scoutten, America's Most Watched Firearms Reporter, has been on the beat for 14 years, reporting the stories of the Shooting Sports and the firearms Industry. The show produces a series of popular segments focusing on historical guns, the personalities in the sport and industry, insider reports from gun tests, and practical tips from shooting sports pros. The show appeals to shooting sports enthusiasts of all ages and skill levels by providing practical tips on safely handling, modifying and repairing their favorite guns.
For more information, please visit www.ShootingUSA.com.