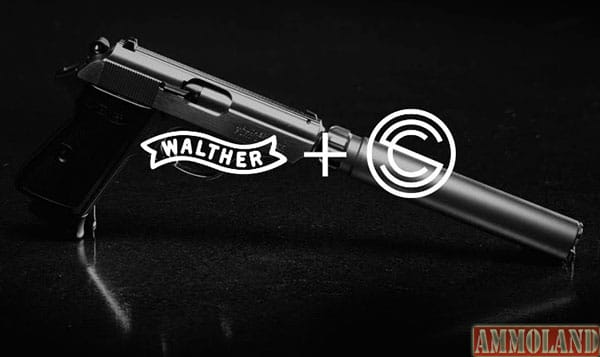 West Valley City, UT -(AmmoLand.com)- SilencerCo collaborated with Walther to pair a Walther PPK/S and SilencerCo Spectre 22 silencer as a Summit line package in anticipation of the new James Bond movie of the same name.
Packages will be available with either a black pistol and black silencer pairing or a stainless pistol and stainless silencer pairing, shipped together in a lockable discrete case with a second magazine with an MSRP of $700.
FEATURES:
Walther PPK/S – Black or Stainless
SilencerCo Spectre 22 – Black or Stainless
Black Metal Locking Case
Two Magazines
SPECS:
Caliber: .22 LR
Barrel Length: 3.3″
Capacity: 10 rounds
Available for purchase exclusively through SK Arms. Visit www.skarms.com to buy your limited-edition Walther PPK/S and Spectre 22 package today!
About Walther Arms:
Walther has earned the trust of law enforcement professionals, recreational shooters, and athletes through its line of reliable pistols, competition guns and tactical rimfire replicas. Walther Arms manufactures and markets firearms of various calibers ranging from .22 to .45.
For more information, visit www.WaltherArms.com.
About SilencerCo:
Founded in West Valley, Utah in 2008, SilencerCo started with a belief in the fundamental premise that firearms don't have to be loud and has now become the market leader in sound suppressors, muzzle devices and related products. By investing in innovation, customer service, organic manufacturing, advocacy, education and talent, SilencerCo is now focused on making firearms hearing-safe for all hunting and shooting applications, introducing products that have never been made before, and making the buying experience a better one.
For more information, please visit www.SilencerCo.com.