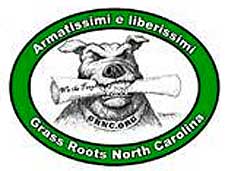 North Carolina –-(Ammoland.com)- WRAL TV out of Raleigh will be airing an anti-second amendment hit piece on Monday.
The report focuses on NFA trusts that are often created by law-abiding Americans to deal with the onerous process of legally obtaining NFA items including suppressors, short barreled rifles and fully automatic firearms manufactured before 1986.
When called out for their misleading graphic (shown above) WRAL reporter Cullen Browder had the subtitle changed to the only slightly less misleading, "Doesn't Require a Background Check".
The piece blatantly lies about the process of establishing an NFA trust, suggesting that ATF Form 4's are not carefully scrutinized by ATF agents prior to approval.
Of course nothing could be further from the truth. NFA trusts are carefully reviewed by ATF and typically require 6 to 9 months of investigation prior to approval.
WRAL also misleads in saying local law enforcement is not involved in approving Form 4 applications. In North Carolina, every Form 4 submitted by an individual must be approved by the sheriff of the county that the responsible person resides in. If an NFA regulated item is being purchased by a Trust then the Trust and all Trustees are still closely scrutinized by the BATFE before approval and issuance of the Tax Stamp for each.
Local attorney and expert on NFA trust issues, Drew Dempster, was interviewed for the report by WRAL and misrepresented. The following is a quote from Mr. Dempster in the comments section of WRAL's Facebook page about how WRAL has dishonestly cast the issue:
"As the attorney who was interviewed for this piece, I am already disappointed in the title and tone of this headline. An NFA trust does not in any way bypass the BATFE. The only thing the trust does is take away the unchecked power the CLEO has to infringe on our 2nd Amendment rights. Hopefully this is just an attention grabbing title to drum up interest for the showing, however based on what I've seen I'm afraid the truth will not be reported. This is sad to me considering I know what I said in my interview and this title completely contradicts what was said. I hate to burst your bubble WRAL but your info is wrong.…No background check – FALSE. There is a NICS check. No paperwork- FALSE. Even with a trust you must submit a form 4 or form 1 with you trust to receive approval from BATFE. No permit- FALSE. That $200 dollars you have to pay Uncle Sam gets you a tax stamp that does two things. Makes it legal at the state and federal level to own NFA firearms. Very misleading title."
WRAL's clear intent is to frighten low information viewers by suggesting that ANYONE can obtain fully automatic firearms without thorough vetting. The goal is to create political momentum to ban NFA trusts in our state.
We cannot let anti-freedom media do the dirty work of dishonest anti-gun extremists without opposition. We have to hit WRAL where it hurts most: in their advertising revenue.
IMMEDIATE ACTION REQUIRED!
Call AND email WRAL advertiser Leith Nissan Tell General Manager Danny Williams that your next vehicle will not be purchased from Leith as long as they advertise with anti-second amendment WRAL
CONTACT INFO
Email General Manager Danny Williams at:
[email protected]
Call him at: 919-589-0029
DELIVER THIS MESSAGE
Suggested Subject: "No business with Leith while you support WRAL-TV"

Dear Mr. Williams:

WRAL-TV in Raleigh is unfortunately a classic example of anti-freedom media that assists gun control extremists in attacking the constitutional rights of your customers.

WRAL is currently lying about the process of establishing a trust through ATF, intending to create political momentum to make it impossible for North Carolinians to obtain certain firearms and equipment.

North Carolina's gun owners are among the most responsible group in our state, and we buy vehicles.

I regret to have to bring you into this issue, but we have little recourse in defending our right to bear arms from media attacks other than refusing to do business with their advertisers.

Unfortunately Leith Nissan is it. I regret to inform you that I cannot do business with Leith Nissan as long as you support anti-second amendment WRAL-TV.

Sincerely,
About:
Grass Roots North Carolina/Forum for Firearms Education is a non-profit, all volunteer organization devoted to educating the public about trends which abridge the freedoms guaranteed by the Bill of Rights, and engaging in grass roots activism to preserve those freedoms. Formed in 1994 to conduct a highly successful rally for the Second Amendment, GRNC has gone on to conduct projects like "Remember in November: A Gun Owner's Guide to Voting," bringing concealed carry to North Carolina. Visit:www.grnc.org