Hayden, ID -(AmmoLand.com)- Alien Gear Holsters, the most comfortable and concealable holsters on the planet, is offering $15 off their premium Alien Gear Gun Belt when paired with any concealed carry holster.
For just $44.88, open and concealed carriers can clip their custom gun holster on a steel-reinforced leather gun belt. This spring-steel gun belt and holster combo will provide all-day comfort and support to those who carry a pistol or revolver.
Pair the Alien Gear Gun Belt with a 'Cloak Tuck' 3.0 iwb holster and Mechanical Engineer Sean McCoy explains that concealed carriers are sure to feel a difference.
"The same spring steel that allows excellent retention in our 'Cloak Tuck' 3.0 holster forms a steel band around your waist to ensure that your gun is held securely to your body, even under the weight of a full-sized firearm," McCoy said.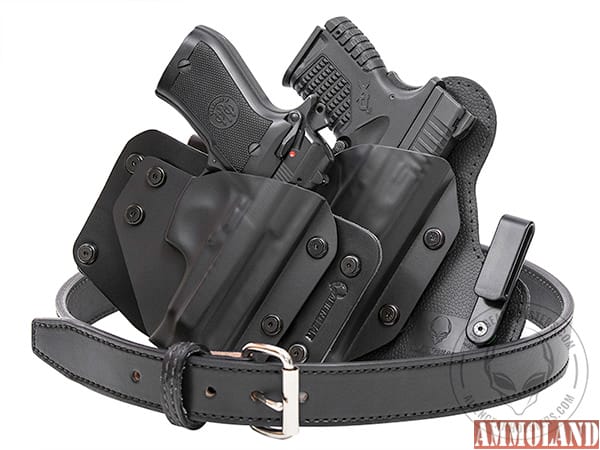 Alien Gear Holsters Manufacturer Jonnie Hebert also agrees that a premium gun belt is necessary when carrying heavier handguns.
"The thicker the gun belt, the more it will evenly distribute the weight of your firearm across your entire waistline," Hebert said. "With that in mind, our Alien Gear Gun Belts are second to none."
Alien Gear Holsters offers trial periods for all of their holsters and gun belts, allowing you to test them out risk free! Learn more about this spring-steel combo at http://aliengearholsters.com/alien-gear-gun-belt.html.
About Alien Gear Holsters:
Founded in 2013, Alien Gear Holsters manufactures premium, incredibly comfortable holsters for concealed carry. Alien Gear Holsters are the most comfortable, concealable holsters on the planet. Any planet.
For more information about Alien Gear Holsters, visit www.AlienGearHolsters.com.