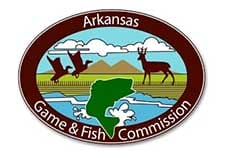 Arkansas -(Ammoland.com)-  Waterfowl habitat conditions in Arkansas have been excellent for the early part of the 2015-2016 season.
Heavy rainfall in November and early December have filled agricultural fields and green-tree reservoirs, pushed many rivers out of their banks, and created abundant waterfowl habitat across The Natural State.
But another important environmental factor – unseasonably warm temperatures – appears to be limiting duck numbers in Arkansas.
The Arkansas Game and Fish Commission's latest aerial waterfowl survey shows the state's duck population estimate is well below the 2009-2015 average in both total ducks and mallards. The Delta portion of the survey, which covers the typically waterfowl-rich area in the eastern third of the state and accounts for the vast majority of the surveyed acreage, revealed a total duck estimate of 948,451 ducks, including an unusually low December count of just 347,277 mallards. The Delta portion of the survey was flown Dec. 7-10.
The Delta mallard count is the lowest December survey estimate on record since formal surveys began in 2009. It's less than half of the long-term Delta mallard average of nearly 750,000 birds for the December aerial survey. Likewise, the Delta total duck population estimate (948,451) is far below the December survey average of close to 1.5 million ducks.
Luke Naylor, AGFC waterfowl program coordinator, attributed the low numbers to this fall's strong El Niño-influenced weather pattern.
"The continued effect of an unusually warm fall is evident in these survey results," Naylor said. "Weather patterns dominated by a strong El Niño brought earlier than normal rainfall and flooding to many parts of Arkansas at the beginning of the season, but these weather patterns have also resulted in above-average temperatures in much of the U.S., including Arkansas and other parts of the Mississippi and Central flyways. The result in Arkansas has been abundant habitat but little in the way of favorable conditions for southerly duck migration, particularly for mallards."
Naylor said Missouri Department of Conservation waterfowl surveys are showing about a two-week delay in migration. Observations from the Mallard Migration Network also suggest a migration that's stalling in mid-latitude states.
Long-range forecasts don't leave much cause for optimism. Extended forecasts for Little Rock call for high temperatures near 70 degrees on Christmas Day.
"A major mallard migration almost certainly will occur this season," Naylor said, "but when it does it likely will happen quickly and not provide the pulses of migration from the first or second week of December through early January that typically provide sustained duck hunting success across Arkansas."
In southwestern Arkansas, AGFC observers flew the aerial survey Dec. 4 and estimated just less than 20,000 total ducks, including 11,425 mallards. In the Arkansas River Valley, the survey was flown Dec. 9 and observers reported an estimate of 26,226 total ducks, including just 7,019 mallards.
In the Delta, AGFC observers reported mallard habitat use that included 30 percent in rice fields, 14 percent in bean fields and 13 percent in other agricultural fields. Nearly 25 percent of Delta mallard observations were in moist-soil habitat. Most Delta mallards were observed in the Black River-upper White River and Cache River survey zones.