Story by Brenda Rolin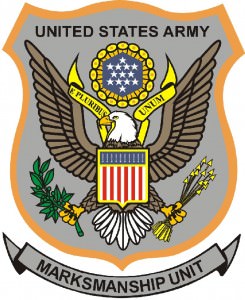 Fort Benning, GA -(AmmoLand.com)- Three Soldiers are poised to join their teammate, 2008 Olympic gold medalist Sgt. 1st Class Glenn Eller, at the 2016 Olympic Games in Rio de Janeiro next August after placing first through third in the 2015 Shotgun Fall Selection Match Oct. 16, 2015, in Tucson, Arizona.
Sgt. 1st Class Joshua Richmond, U.S. Army Marksmanship Unit, won gold in the October event, and his two teammates, Sgt. Derek Haldeman and Sgt. 1st Class Jeffrey Holguin, won silver and bronze, respectively.
"We're in somewhat of a dog fight right now," said Richmond, a 2012 Olympian.
The Shotgun Fall Selection Match is the first of two 2016 Olympic Trials for shotgun, and it is a chance for shooting athletes to compete in the Olympic Games next summer, according to the USA Shooting (USAS), the organization chartered by the U.S. Olympic Committee as the National Governing Body for the sport of shooting.
Eller is currently ranked fourth in the world for men's double trap by the International Shooting Sport Federation (ISSF), and his three teammates are now jockeying for position to win the final men's double trap seat on the U.S. Olympic Team.
The next and last Olympic Trials for shotgun, named the USAS Shotgun Spring Selection Match, is in May 2016 in Tillar, Arkansas. The points earned by each competitor during the Shotgun Fall and Spring Selection Matches are combined to determine the Olympic Team members.
"Luckily, I have a one-target lead, which is nice going in there," Richmond said. "It's surely not enough to say I'm on the team—anything could happen, especially in double trap."
The last few years have been both good and bad for Richmond, the gold medalist in the 2015 Shotgun Fall Selection Match. In 2014, he won two ISSF World Cups and a World Championship, which qualified him to earn the first double trap country quota for the 2016 U.S. Olympic Team.
Shooting sport athletes must win country quotas in specific international competitions, and quotas are generally awarded when an athlete wins a gold medal at ISSF World Cups or posts a top finish at ISSF World Championships or Continental Championships in the years before the Olympic Games, according to ISSF Olympic qualification guidelines.
However, athletes who win quotas are not automatically qualified for the Games, because each country decides how to use the quotas won by its athletes. Also, each country is only allowed two quotas per event.
"Unfortunately, I had a bad Fall Selection Match in 2014 and didn't make the team for 2015, so (winning the country quota) was bittersweet," said the Hillsgrove, Pennsylvania, native.
Because he didn't make the National Team this year, Richmond didn't get to compete in any ISSF events. With his first-place finish in the 2015 Shotgun Fall Selection Match, things are looking up for him. Another team member with high hopes of making the 2016 U.S. Olympic Team is Haldeman, who silvered in the 2015 Shotgun Fall Selection Match. He has been assigned to USAMU since 2011 and trains with Eller, Holguin and Richmond.
Haldeman, of Sunbury, Ohio, said as the three of them began the 2015 Shotgun Fall Selection Match this year, they knew they had to be on top of their games.
"We all wanted to stay in contention because you can't make the Olympic Team off the first selection match," Haldeman said. "We all had to do well so when we get to Tillar in May we have a chance."
Haldeman began shooting in the Amateur Trapshooting Association when he was 11 and moved into international double trap in 2007. But he said it was a lifelong dream to join the Army, and his shooting skills helped him break into the Army's elite team–USAMU.
"The Army is a good opportunity for me because I already wanted to join, but it's a good opportunity, also, from the shooting aspect," he said. "We get training and experience and the people I get to shoot with every day are world-level shooters."
Bronze-medalist Holguin has been ranked No. 1 in the world three times in his career—six months in a row this year.
"I was a little disappointed when the Fall Selection Match was over because I wasn't in the lead, but every time I get up there (on the podium), it's a win," Holguin said.
He won a gold medal earlier this year, snagging the other double trap country quota for the 2016 U.S. Olympic Team, during the 2015 ISSF World Cup Acapulco, Mexico, Feb. 28-March 10.
Holguin joined the Army to accomplish his Olympic goals, and he has been successful in reaching many of them. After his assignment to USAMU in 2007, Holguin, of Yorba Linda, California, represented the United States and the Army in the 2008 Summer Olympic Games in Beijing, China, finishing fourth in men's double trap. He has won multiple national and international medals since then.
He said the main things the Army has provided him in reaching his dreams are structure, discipline and strong teammates, he said.
"We push each other by trying to keep up as each of us improves," Holguin said. "There's only one top spot on the program, and we're all going for it."
One of the teammates who pushes Holguin is 2008 Olympic gold medalist Eller, who won an automatic berth on the 2016 U.S. Olympic Team Sept. 14 at the 2015 Shotgun World Championship in Lonato, Italy, after placing sixth in that event.
Eller's nomination to the Olympic Team is his fifth in a row in double trap, making him the first American male in history to achieve this feat, according to USAS.
Prior to joining USAMU in 2007, he was already a two-time Olympian. Although he said he probably could have continued to chase his Olympic dream, it would have been more difficult if he hadn't joined the Army.
"The Army gives me the structure and support to continue competing," Eller said.
Sgt. 1st Class Mark Weeks, USAMU team chief and skeet competitor, said all three double trap team members vying for the final 2016 Olympic Team spot have their strengths and weaknesses.
"But no matter who we send in that spot, they are going to be contenders for an Olympic medal," he said.
In men's skeet, Spec. Hayden Stewart, one of the newest members of the Shotgun Team, tied with U.S. National Team member Frank Thompson for the gold during the Shotgun Fall Selection Match.
Although Stewart is not currently ranked by the ISSF and U.S. National Team member Thompson is ranked as No. 40 in the world—behind U.S. National Team members Vincent Hancock, the No. 1 skeet shooter in the world, and Dustin Perry, No. 19 in the world for skeet shooting—Stewart has the same chance to qualify for the 2016 U.S. Olympic Team as Thompson.
Stewart said he was thrilled to tie for first place, and his plan for the May 2016 Olympic Trials is simple.
"I am going to do what I know how to do," he said.
Stewart began as a junior skeet shooter when he was a teen, and he won three gold medals and one silver medal in skeet at the Tennessee State Junior Olympics from 2008 to 2012. Stewart said this is the first time he will get to shoot in the Olympic Trials for men's skeet because, in the past, schoolwork came first.
He said working for the Army and USAMU gives him the chance to train every day with some of the top athletes in the United States.
"I don't know many people who can say they work with Olympians every day," Stewart said. "I hope to make it to 20 (years)."
Weeks said he wouldn't be surprised if Stewart earns a seat on the U.S. Olympic Team for men's skeet.
"Even though this is the first time he has competed in the Olympic Trials, he shoots well and he has a great mental game," he said.
Two other USAMU skeet teammates, Spc. Mark Staffen, Lewis Center, Ohio, and Spc. Dustan Taylor, Liberty, North Carolina, will also compete in the 2016 Olympic Trials for shotgun in May.
However, there is only one seat left on the men's skeet team.
"We have three up and coming competitors (from the Army) who have a good chance of filling the one men's skeet slot still open," Weeks of Clinton Township, Michigan, said
For more information about the CMP and its programs, log onto www.TheCMP.org for more information and program descriptions.
About The Civilian Marksmanship Program (CMP):
The Civilian Marksmanship Program (CMP) is a national organization dedicated to training and educating U. S. citizens in responsible uses of firearms and airguns through gun safety training, marksmanship training and competitions. The CMP is a federally chartered 501(c)(3) corporation that places its highest priority on serving youth through gun safety and marksmanship activities that encourage personal growth and build life skills.
For more information, please visit www.TheCMP.org.