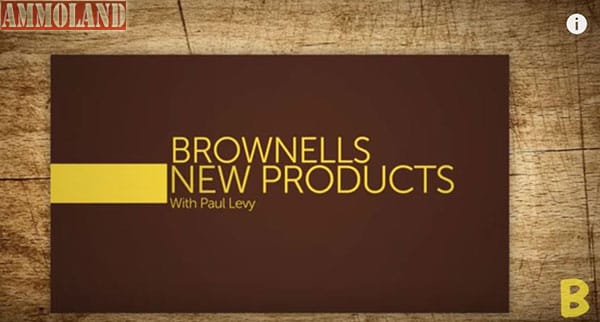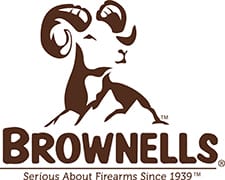 Grinnell, IA -(AmmoLand.com)- Learn about the hottest new Brownells products from the best brands at the New Product Center.
Hosted by Merchandise Manager Paul Levy, the videos review what's new, and remain at the New Product Center page for several weeks. Then the videos are archived on the Brownells YouTube channel, and are accessible at any time.
Products featured in this week's video include:
1. Magpul PMAG D-60 Drum Magazine (#100-016-592). Lightweight, durable polymer magazine holds up to 60 rounds of 5.56/.223 ammunition for sustained firepower without a reload. Drum's compact design allows for easy prone firing, and simplifies storage. Tension-relieving lever eases loading. Fits standard AR-15-style firearms, as well as HK416, MR556, M27 IAR and similar. $123.45 retail.
2. Bravo Company KMR Alpha Handguard. With many of the same advantages as the original KMR Handguard, the all-aluminum Alpha version weighs slightly more, but costs less. Handguard flares slightly toward the muzzle into special flat-bottomed shape that is comfortable and ergonomic, and helps give stability when shooting off a rest or barricade. Accepts KeyMod accessories at four offset positions, and free floats the barrel to help maximize accuracy potential.
7″ KMR Alpha, #100-018-327. $171.95 retail.
8″ KMR Alpha, #100-018-330. $171.95 retail.
9″ KMR Alpha, #100-018-331. $176.95 retail.
10″ KMR Alpha, #100-018-332. $179.95 retail.
13″ KMR Alpha, #100-018-333. $189.95 retail.
15″ KMR Alpha, #100-018-334. $199.95 retail.
3. Rapid Pure Trail Blazer Ultralight Camp Filter.  Reservoir-style filter hangs up on a branch, pole or stand and uses gravity to help remove virtually all particles, impurities, microorganisms and viruses from water. Can be rolled up for easy storage in a pack or bag. Comes with 9-liter reservoir, long-threaded connector, sealing washers and tube for drinking or directing water into other containers. Filter unit length determines flow rate and average service life.
2.5″ Trail Blazer Ultralight Camp Filter, #100-018-343. $89.99 retail.
4.5″ Trail Blazer Ultralight Camp Filter, #100-018-344. $94.99 retail.
6.5″ Trail Blazer Ultralight Camp Filter, #100-018-345. $99.99 retail.
About Brownells:
Serious About Firearms Since 1939, Brownells is the world's leading source for gun parts and accessories, ammunition, gunsmithing tools, survival gear and archery. With a large selection of both common and hard-to-find items, and an extensive collection of videos, articles, and gun schematics, Brownells is the expert for everything shooting-related. Committed to maintaining our great traditions, Brownells has more, does more and knows more – and guarantees it all, Forever. Stay up-to-date with Brownells on YouTube, Facebook, Twitter and Instagram.
For more information or to place an order, call 800-741-0015 or visit www.Brownells.com.