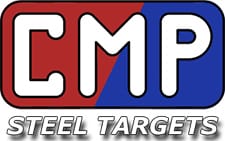 Weldon Spring, MO -(AmmoLand.com)- Custom Metal Products today announced the newest release of their growing product line.
The Precision Varmint Shooting Bench provides a very stable shooting position with an easy to use, easy to transport bench. See it at the SHOT Show, Booth 1308. The CMP Precision Varmint Bench is compact, stable and sturdy, and allows you to shoot in any direction.
The long tube-in-a-socket design and the precision machined bronze thrust bearing insure silky smooth, chatter free rotation. The three legged design means the bench is always stable. The legs slide into sockets on the base and can be adjusted in length to aid in leveling.
The seat is adjustable for height and distance to the pivot, and revolves with the bench top. Multiple holes on the parts allow adjustments to suit your body size and shooting style, and the legs and seat are secured with retaining pins. The bench is quickly and easily assembled, and breaks down into just a few pieces for easy transit or storage.
The bench places the shooter on a short seat bracket, keeping him very close to the center of rotation for precise target tracking. In addition, being close to the center insures the bench will not tip due to the shooter's weight, and you can swivel to any shooting direction, smoothly and easily.
The design of the top has been proven to be superior in many years of varmint hunting. It is designed to place the rifle at an angle, and to place the butt near the rear corner, with the front rest near the centerline of the top. The rifle side has a generous area for your trigger arm and elbow, and your other elbow can also rest on the bench top. With your body against the bench top and both elbows supported, the rifle remains stable without having to hold it on target. There is plenty of room for your ammo, binoculars, rangefinder and wind meter. The top is reversible for right or left handed shooters.
Pricing and Availability:
The Precision Varmint Shooting Bench is available now at www.custommetalprod.com. The price is set at $349.
About Custom Metal Products:
Custom Metal Products is a full line manufacturer of AR500 hardened steel shooting targets for competition, recreational, law enforcement and military use. Our products include IDPA/IPSC, Dueling Trees, Gongs, Swingers, Hostage, Sniper, and Cowboy Action Targets.
See all of our product details, including videos on our online store at www.CustomMetalProd.com.