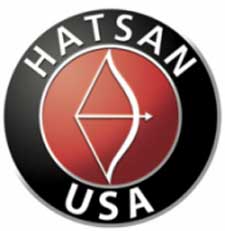 USA – HatsanUSA has read your online comments, they've heard your ideas voiced at trade-shows, and now the company is proud to announce the release of its new HatsanUSA Gladius Airgun line.
Designed to answer the wants and needs of the airgun community, casual shooters and those tinkering with the idea of getting into airgunning, this new line features a number of firsts for HatsanUSA.
The most noticeable feature of the Gladius is its customizable bullpup design. The advanced polymer stock is ambidextrous and features an elevation adjustable comb and adjustable butt pad to ensure that you're comfortable with every shot you take. The stock also features onboard storage for up to 3 magazines.The Gladius design also utilizes a side-lever action that allows for quick and effortless follow-up shots.
But, the Gladius is more than aesthetics. This is the first airgun from HatsanUSA to feature adjustable power settings.
With the turn of a dial, shooters can choose from 6 graduated settings and go from plinking in their own backyard to varmint hunting, all while using the same airgun. This feature not only allows users to choose the perfect velocity and power for their intended target, but also aids in the maximizing shots-per-fill. Based on the selected power setting, the Gladius is able to provide anywhere between 35 and an incredible 90 shots per fill.
Although the Gladius is a completely different venture for Hatsan, it still carries many of the traits that have made the company one of the most preferred airgun manufacturers in the world – such as a fully adjustable two-stage Quattro Trigger, a detachable aluminum air cylinder tube, anti-double feed, a precision rifled barrel and Hatsan's patented Anti-Knock system to prevent gas wastage when the rifle is knocked or bounced.
The Gladius is also fitted with Hatsan's QuietEnergy Technology. This proprietary system uses a fully-integrated sound moderator to diminish overall sound by more than 50% – making the Gladius quiet enough for backyard shooting.
The Gladius will also be available in a Long version, which features an extended barrel for those looking for both increased accuracy and energy upon impact.
For more information on HatsanUSA and the Gladius airgun line, visit www.hatsanusa.com.
HatsanUSA Gladius Airgun
Pre-charged pneumatic power system
Side-lever cocking action
Average Power:

.177 Caliber: 5 -22 ft lbs (1070 max fps)
.177 Caliber Long: 6-27 ft lbs (1190 max fps)
.22 Caliber: 7-31 ft lbs (970 max fps)
.22 Caliber Long: 8-38 ft lbs (1070 fps)
.25 caliber: 7-34 ft lbs (870 mx fps)
.25 caliber Long: 9-42 ft lbs (970 max fps)

Fully adjustable comb and butt pad
Detachable 255cc air cylinder for 200 bar fill (2900psi) with built in pressure gauge
Detachable 10 shot .177 or .22 caliber magazine or 9 shot .25 caliber magazine
Manual and automatic safety
Anti-double pellet feed prevents more than one pellet loading into the barrel
Patented Anti-Knock System prevents gas wastage when the airgun is knocked or bounced
Fully adjustable 2-stage Quattro Trigger System
Three (3) additional rotary magazines with onboard magazine storage
Quick fill nozzle and air cylinder discharging cap
Durable hard-plastic case
About HatsanUSA Inc.:
HatsanUSA Inc. gives U.S. customers the first opportunity to purchase Hatsan airguns, known and respected throughout the world for their premium Turkish craftsmanship, quality, and hard-hitting performance direct from Turkey. www.hatsanusa.com