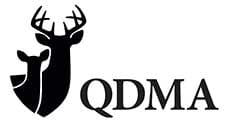 Athens, GA -(AmmoLand.com)- The Quality Deer Management Association (QDMA) is pleased to announce that James Lanier of Waunakee, Wisconsin, has joined the organization as a Regional Director working with QDMA Branches and members in Wisconsin, Minnesota, North and South Dakota.
James has built his career around starting and operating several successful businesses and franchise operations. He holds a bachelor's in accounting from the University of Wisconsin at Madison, and before attending college served in the U.S. Army as a Military Police Investigator.
He is also a passionate deer hunter and manager. He has been a QDMA member for 10 years and has worked hard to improve deer habitat on his family's Wisconsin farm. In 2014, he founded a QDM Cooperative in the area, and already it involves 48 members managing over 8,000 acres. Along with his neighbors, he also created two of Wisconsin's first DMAP Cooperatives. James is shown in the photo above with a buck he killed in 2015 on the QDM Cooperative he helped form.
"My true passion has always been deer hunting and wildlife habitat management," said James. "I would love to share my passion with others by promoting QDMA's programs and by increasing the number of QDMA members and Branches in my region."
About QDMA:
Founded in 1988, QDMA is a national nonprofit wildlife conservation organization dedicated to ensuring the future of white-tailed deer, wildlife habitat and our hunting heritage. To learn more about QDMA and why it is the future of deer hunting, call 800-209-3337 or visit www.QDMA.com.
QDMA can also be found on: Facebook, Twitter, Pinterest and Instagram.