Bend, Oregon (Ammoland.Com) – Kristy Titus, NRA Certified Instructor and Cabela's Ambassador, is assisting new shooters at the Shoot Like a Girl booth (#110) during the Rocky Mountain Elk Foundation's Elk Camp and Hunter Christmas December 3rd-12th at The Las Vegas Convention Center (LVCC). Titus will be helping shooters at SLG' state of the art 52' trailer where the team of NRA Certified Instructors will provide new shooters with a controlled, safe, and fun environment where they can experience shooting sports within a short amount of time. Women are invited to come and shoot pistol and rifle with the military grade simulation system that utilizes real firearms that replicate 85 percent of true recoil in addition to drawing back a variety of bows.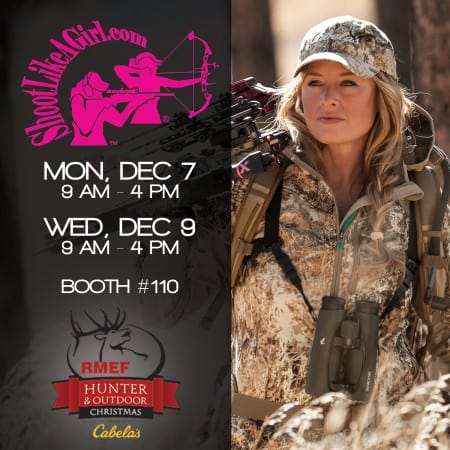 "Helping women discover or rediscover shooting sports is my goal. In order to ensure a bright future for our hunting heritage or simply for the fun of shooting sports, we must involve women. Women are key in changing the discussions concerning gun control, learning the safe handling and use of firearms is key to protecting our Second Amendment," said Titus. "With women being the fastest growing segment in the outdoors, I expect the Shoot Like a Girl trailer to be very busy during the Hunter Christmas expo!"
Titus will be at the Shoot Like a Girl booth (#110) at the following dates and times:
December 7 from 9:00AM-4:00PM
December 9 from 9:00AM-4:00PM
Shoot Like A Girl has a simple mission: to grow the number of women who participate in shooting sports by empowering them with confidence. Since the company was founded in 2008 it has and continues to achieve that goal, through Test Flights™, seminars and information sharing via social media and http://shootlikeagirl.com
The founder and president of the company, Karen Butler, realized that although women are the fastest growing demographic in shooting sports, there were still factors that limited their involvement. Primarily, the opportunity for women to try equipment that fits in a safe and controlled environment. Shoot Like A Girl, with the help of their valued corporate sponsors, travels the country with archery equipment in weights and lengths for women to try at their Test Flights™. They go to events where there are a lot of women spectators, but not necessarily a lot of participants, like hunting shows, conservation shows and shooting sports tournaments.
Elk Camp coincides with the first four days of the National Finals Rodeo. Sponsors include Browning, Buck Knives, Cabela's, Hunter's Specialties, Leupold, Nationwide, New Holland, Nosler, Peak & BlueDEF, Sitka, Realtree, Remington and U.S. Bank.
Terri Clark, Tracy Lawrence, Craig Morgan, Chuck Wicks and Mark Wills will provide entertainment at Elk Camp evening events at The Mirage. Wicks and Wills will join fellow country music performing artists Chad Bushnell, Lucas Hoge, Erin Michelle, Jay Ketchem and Genevieve Allen on the Cabela's Live Stage (Booth #1220) located on the floor of the newly expanded Hunter & Outdoor Christmas Exposition.
The expo will take place in the South Halls of the LVCC in conjunction with the Popular Cowboy Christmas Dec. 3-12. Expo sponsors include Cabela's, Chevrolet, Yamaha, Alps Outdoorz and Peak & BlueDEF.
Learn more about Kristy Titus at http://kristytitus.com, https://www.facebook.com/KristyTitus and https://instagram.com/kristytitus/
About Kristy Titus: With a shared passion and love of the outdoors, Titus is honored to serve as an ambassador for Cabela's, The Rocky Mountain Elk Foundation, RMEF's Team Elk television Show, Swarovski Optik, Buck Knives, Montana Silversmiths, and Wilderness Athlete. Titus was raised leading a pack string of mules into the backcountry of Oregon, experiencing the thrill of public land, do-it-yourself hunting. She believes that life's lessons are best learned in the field with family and friends by your side, helping to develop sound personal character and values. Titus is passionate in the support of wildlife and habitat conservation and outdoor education. She is a featured member of RMEF's Team Elk television show airing on the Outdoor Channel and actively volunteers supporting local RMEF chapter events and youth hunts around the country. Titus is an NRA Basic Pistol and Refuse To Be A Victim Certified Instructor and part of the Wilderness Athlete Pro Staff. She shares her passion for fitness and nutrition as editor for Western Hunter, Elk Hunter and North American Hunter magazines. Learn more at http://kristytitus.com, https://www.facebook.com/KristyTitus and https://instagram.com/kristytitus/