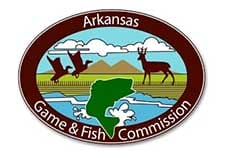 CONWAY –  -(Ammoland.com)- Joe Mosby, who began working at the Arkansas Game and Fish Commission after the Arkansas Gazette closed in 1991, died over the weekend at age 85. He was born Oct. 5, 1930.
Joe was busy writing about the Arkansas outdoors for the agency even during his final days. He enjoyed nothing more than scouring the state and talking to people about their hunting, fishing and other outdoor experiences. Joe was known across Arkansas for his extensive knowledge of the outdoors, history and sports – he was a walking encyclopedia.
He's a member of every hall of fame and recipient of every honor for which he was qualified – Arkansas Outdoor Hall of Fame, Arkansas Activities Association Distinguished Service Award, and Arkansas Sports Writers and Sportscasters Hall of Fame, to name a few.
Joe spent the bulk of his career in the newspaper business – as an owner, publisher, editor, columnist, reporter and photographer. He was the outdoor editor at the Arkansas Gazette when it closed. His transition to the AGFC was seamless since he had been covering the agency for the paper since 1973.
During his AGFC years, Joe produced the Arkansas Outdoors newsletter and wrote articles for magazines, brochures, books and other publications. He also worked with the media and, as we sometimes say, performed other duties as assigned.
Joe attended the University of Arkansas at Fayetteville for four years. He and his wife Mary Starr Mosby have four children.
Visitation will be held 6-8 Thursday and the funeral will be Friday 1:00 at Roller Mcnutt in Conway.