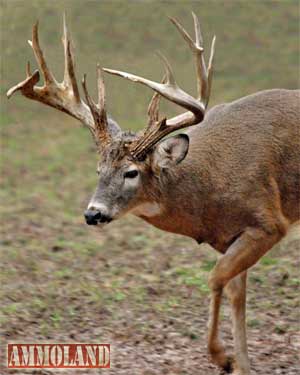 Michigan -(Ammoland.com)- A Michigan Department of Natural Resources conservation officer located a missing hunter who had become lost after leaving his hunting blind to track a wounded deer in Mackinac County.
The 67-year-old man from Sault Ste. Marie, whose name was not released, had been hunting in Clark Township Sunday afternoon, a few miles northeast of Cedarville.
The hunter wounded a deer sometime Sunday afternoon. In searching for the animal, the man became disoriented as daylight began to diminish. At about 4:50 p.m. he called 911 from his cellphone, reporting he was lost.
Cellphone service in the area is spotty, and the man considered himself fortunate to have had a signal to get a call out.
Deputies from the Mackinac County Sheriff's Office and Clark Township Fire Department personnel responded to the scene and began searching.
DNR conservation officer Jon Busken heard radio traffic about the search effort and soon arrived to help.
Busken and a sheriff's deputy sounded their sirens from separate locations to try to signal the lost hunter. Deputies were able to contact the man on his cellphone. He said he could hear Busken's patrol vehicle siren loudest of the two sirens, as they were turned on and off.
Busken and a member of the lost man's hunting party were able to position themselves so they could shout to the hunter. He began walking out of the woods toward Busken, but he became disoriented in the swamp. He soon began walking farther away from the conservation officer.
"Cell phone contact with the lost hunter was very poor," Busken said. "At this point, we decided we needed to go to him before he became more disoriented and moved farther into the very dense and wet swamp."
Busken and the man's friend went in on foot and located the lost hunter at around 10:30 p.m.
"His shoes and pants were soaked from walking through the cedar swamp," Busken said. "He seemed somewhat disoriented, but was very happy to see us."
It took the men nearly two hours to walk back to Busken's patrol truck.
"His condition and the swampy terrain we encountered required us to walk out very slowly," Busken said. "It was close to 1 a.m. Monday before we had him safely back at his camp."
Lt. Eugene "Skip" Hagy, who is Busken's supervisor, said the search produced a happy ending in a situation that could have turned out much worse, with temperatures in the teens during the night and the hunter soaking wet.
"Conservation officers often assist with locating individuals who become lost in remote areas," Hagy said. "These areas are their backyards. It's where they work every day."
DNR Law Enforcement Division Chief Gary Hagler agreed.
"This is another example of the important role Michigan conservation officers play in search and rescue operations throughout the state," Hagler said. "Conservation officers are well-trained and routinely respond to a wide range of situations where people find themselves in need of assistance.

"This was just one of many successful recoveries by DNR conservation officers over the firearm deer hunting season and we're glad the outcome turned out as it did."
Hagy said the incident provides a good reminder to be prepared when heading into the woods.
He suggested the following tips:
Let someone know where you will be and when you expect to return.
Have some basic survival tools, including a compass, with you. Take a compass reading before you go into the woods so you know which direction you're heading. If you become disoriented, you'll know which direction to travel to get back out.
Take some waterproof matches and a flashlight with extra batteries.
"These are just a few basic things everyone should have with them," Hagy said.
The wounded deer was not recovered.
For more information on DNR conservation officers, visit the DNR's website at www.michigan.gov/dnr/conservationofficers.