By David Codrea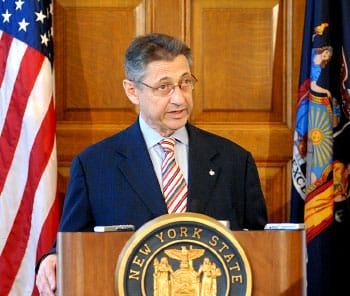 USA – -(Ammoland.com)- Disgraced former New York Assembly Speaker Sheldon Silver, a leader in the effort to disarm peaceable citizens, has been found guilty on seven federal counts of extortion, money laundering and fraud.
Additionally the jury convicted him of trading favors in exchange for $5 million. Unbelievably, except it's really not, his defense centered on the protest that in New York politics, everybody does it.
That's probably true, and no doubt goes a long way toward explaining why criminals are so concerned about making sure everyone but they and their enforcers are disarmed. No one has been more rabid about that than Silver, abusing his influential political position to betray his oath of office and subvert the rights of his constituents, and not just the ones dumb enough to trust him with power over their lives.
As Speaker, Silver led the efforts to ram Gov. Andrew Cuomo's Newtown-exploiting infringements on the right to keep and bear arms through the legislature.
"What we are looking for is a complete ban on assault weapons," an opportunistic Silver said mere days after the Sandy Hook shootings. "If that isn't impetus enough to change that outcome in the Senate, I don't think anything else will."
That assault on freedom was just another in a series of incremental attacks the greedy extortionist and fraud was behind, and that figures when you consider that citizen disarmament is based on fraud and its enforcement depends on extortion and coercion. Per his Vote Smart record on the issue, Silver led the House in passing edicts on a host of other "gun control" measures over the years.
Fittingly, Silver will now be a "prohibited person" himself, someone the government he once helped lead does not trust to so much as even touch a gun.
His conviction is reminiscent of other criminal acts that prominent citizen disarmament-demanding politicians have made headlines with in recent years, including numerous members of Michael Bloomberg's "Mayors Against Illegal Guns." It also brings to mind another powerful anti-gun politician, despicable former California State Senator Leland Yee, who pleaded guilty to racketeering and gun trafficking charges.
As is typically the case when someone demanding to criminalize a right is himself found to be guilty of being a criminal, the environment that allows corruption to flourish also comes under scrutiny.
"New York may be home to one of the oldest and most corrupt political machines in the nation, but it's hardly unique," a Hot Air report that was anticipating Silver's arrest stated. "And many of them have shady political dynasties holding on to power by any means possible, with plenty of money changing hands, frequently involving powerful unions and Democrat supporters."
See? Silver's defense was right to raise that point. Everybody who's anybody in New York politics does do it. And as Dean Weingarten tells us, another of Silver's colleagues in disarmament, former Senate Leader Dean Skelos, is now facing a corruption trial of his own, meaning the odds of going after Gov. Cuomo have just improved.
Such dynasties invariably back "gun control." And it can't escape notice that the New York political machine is where Michael Bloomberg first exercised political power, and from where current "Everytown" money and moves against gun owners in Western states is being coordinated and controlled.
About David Codrea:
David Codrea is the winner of multiple journalist awards for investigating / defending the RKBA and a long-time gun rights advocate who defiantly challenges the folly of citizen disarmament.
He blogs at "The War on Guns: Notes from the Resistance," and also posts on Twitter: @dcodrea and Facebook.