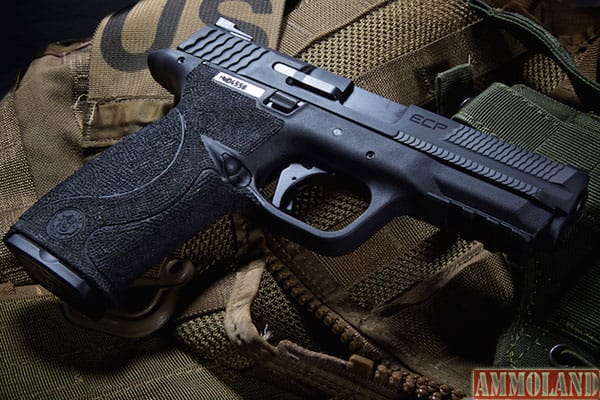 San Luis Obispo, CA -(AmmoLand.com)- PTAC USA, manufacturers of high quality performance driven custom firearms, announces the upcoming release of their new Elite Combat Pistol, or ECP, based on the proven M&P 9mm platform from Smith & Wesson and factory equipped from PTAC USA with upgrades from Apex Tactical Specialties, Trijicon and 10-8 Performance.
"Building on the excellent foundation of the Smith & Wesson M&P pistol, and partnering with the leading manufacturers of the performance upgrades shooters demand, we designed and built the ECP to deliver maximum performance," said Alex DeBono, product manager for PTAC USA.
Driving the high-speed performance of the 9mm ECP is a suite of fire control system improvements from Apex Tactical Specialties. The pistol is outfitted with Apex's patented Forward Set Sear and Trigger System, which includes their Ultimate Striker Block and Forward Set Spring Kit, giving the pistol a crisp, short trigger pull that more closely resembles that of a 1911 than found in any other striker-fired pistol.
To insure consistent, durable performance under extreme conditions the slide of the ECP is machined with front cocking serrations, for easier slide manipulation, as well as top slide scales that further reduce any glare from the Matte Black Nitride finish of the slide. The rear of the slide is equipped with a serrated aluminum backplate that is Type 3 Hardcoat Anodized in Matte Black to help reduce glare the shooter might experience in bright conditions when looking down the sights.
Housed in the slide of the ECP is an Aluminum Titanium Nitrided barrel paired with an Apex Failure Resistant Extractor for enhanced reliability and long service life. The slide is topped with a set of Trijicon HD Night Sights. The combination of the bright orange front sight and serrated black rear allows for clear, fast sight acquisition during day shooting while Trijicon's trusted Tritium inserts improve night shooting.
The enhanced frame of the ECP features aggressive 360-degree texturing allowing the operator to maintain full control in wet environments. The two 17-round 9mm magazines that accompany each ECP include Apex 10-8 Performance Base Pads with their low profile design that dramatically reduces snagging on clothing and while drawing from magazine pouches.
The 9mm ECP from PTAC USA is available now and ships in a high quality shooting bag to protect the firearm while traveling to and from the range. The pistol retails for $1,999.95.
Dealers and distributors can order the new 9mm ECP by contacting PTAC USA at [email protected] or calling (805) 668-5851. International distribution of the ECP is being handled by International Firearms and customers can email [email protected]InternationalFirearms.com to place an order.
Features and Specifications:
Apex Aluminum Foreward Set Trigger & Sear System
Apex Failure Resistant Extractor
Apex 10-8 Performance Base Pads
Trijicon HD Night Sights
Machine Lightened Slide
Forward Cocking Serrations
Full Top Strap Serrations
Serrated Aluminum Back Plate
Black Nitride Matte Slide Finish
Aluminum Titanium Nitride Barrel Finish
Two 17-Round Magazines
Shipped In High Quality Shooting Bag
MSRP: $1,999.95
For more information on the ECP visit PTACUSA.com, like PTAC USA on Facebook or follow @PTACUSA on Instagram.
About PTAC USA:
PTAC USA designs and manufactures their products to be the best, producing firearms and parts that exceed the most discerning shooter's expectations. Their platforms are designed to address and improve shortcomings and offer products that are reliable and perform well beyond the normal standards. For product design, PTAC USA uses only the best, partnering with companies that share our mission and desire to exceed 'standard' to create exceptional. PTAC USA takes great pride in using American made products and partnering with companies who choose an American made standard. Our company takes design serious, we fight for quality and celebrate the tradition of the modern craftsman.
For more information, visit www.PTACUSA.com.