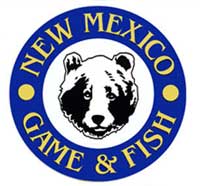 New Mexico  -(Ammoland.com)-  The Department of Game and Fish is seeking the public's assistance in identifying poachers preying upon big bucks during the ongoing mule deer breeding season.
"Bucks in the rut are easy targets for opportunistic poachers," said Bobby Griego, colonel of Field Operations for the department. "We're asking the public to keep an eye out for our wildlife and report any suspicious activity."
The mule deer breeding season in northern New Mexico is in full swing and deer can be found congregating in easily accessible areas where wildlife watchers, photographers and others can observe them. It is also the time of year that game wardens find many illegally slain bucks minus their heads and antlers — rotting by the roadside.

"They're poaching some of our finest bucks," Griego said.
The loss of these trophy bucks deprives deer herds of prime breeding stock for future generations and negatively impacts hunting for others.
Game wardens work overtime during the rut, patrolling wintering grounds where mule deer gather. Officers already are investigating numerous poaching cases, including:
Officers received a report Dec. 8 of a large mule deer buck having been illegally killed several days earlier in a field off U.S. Forest Road 313 and N.M. 595 north of Lindrith. At the scene, officers discovered the carcass of a big buck missing its head, and two dead elk left to rot. Witnesses reported having seen a white Ford Raptor pickup truck in the field.
A large gathering of ravens alerted an officer patrolling the Simms Mesa area near Navajo Lake on Sunday morning, Nov. 29, to evidence of a fresh kill. The officer observed tire tracks on a dirt road about half-mile north of mile marker 14 on N.M. 527 that indicated a vehicle had stopped, backed up and pulled off the road. Further investigation revealed drag marks leading into the brush, where a fresh gut pile from a male mule deer was found. No deer hunting was allowed in the area at that time.
An officer on patrol Dec. 2 on N.M. 527 near mile marker 4 near Navjao Lake found the body of a dead buck with its antlers sawed off in the brush by the roadside. The body of a gutted but intact doe also was found nearby, along with a dead fawn that had been struck by a vehicle.
An officer on patrol Nov. 28 investigated a large gathering of ravens at a well pad off Rio Arriba County Road 362, also known Rosa Road on the mesa east of Navajo Lake. The officer investigated and found the remains of a doe mule deer missing the only choicest cuts of meat known as the "back straps."
Anyone with information about these cases or any others can earn cash rewards while remaining anonymous by calling the department's Operation Game Thief hotline at 1-800-432-GAME or reporting online at www.wildlife.state.nm.us.