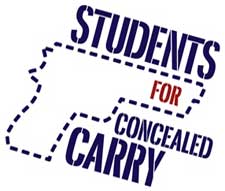 Austin TX -(AmmoLand.com)- Although the campus carry working group's recommendations regarding WHERE licensed concealed carry should be allowed on the UT-Austin campus are generally in keeping with the intent of Texas Senate Bill 11, the group oversteps both is members' area of expertise and the university's statutory authority to create "reasonable" rules, by recommending that concealed handgun license holders carry their firearms in a manner that conflicts with basic handgun training.
SCC has two primary concerns with the group's recommendations:
1. We are concerned that the language allowing faculty and staff to declare their offices "gun-free" doesn't adequately address how this policy will work if several offices are part of a common suite or a common research project. Given that the recommended policies would also forbid a license holder from leaving his or her gun in his or her office while visiting a coworker's office, how are faculty and staff working in—for example—research labs supposed to accommodate the varying gun policies of their colleagues working on the same project, particularly under circumstances in which they are required to be in and out of each other's offices on a regular basis?

2. More significantly, the recommendation that "semiautomatic handguns must be carried without a chambered round of ammunition," flies in the face of the accepted best practices taught by every shooting school, police academy, and military branch in America. The working group should not be making recommendations that conflict with the training already received by CHL holders and/or that requires CHL holders to adopt inferior self-defense practices.
About Students for Concealed Carry:
Students for Concealed Carry (SCC) is a national, non-partisan, grassroots organization comprising college students, faculty, staff, and concerned citizens who believe that holders of state-issued concealed handgun licenses should be allowed the same measure of personal protection on college campuses that current laws afford them virtually everywhere else. SCC is not affiliated with the NRA or any other organization. For more information on the debate over campus carry in Texas, visit WhyCampusCarry.com.
For more information on SCC, visit ConcealedCampus.org or Facebook.com/ConcealedCampus.