Editors Note: The federal government began its investigation of Stag in July 2014, after a routine ATF compliance inspection turned up a variety of recording keeping violations, missing firearms and unregistered machine guns.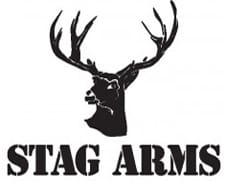 NEW BRITAIN –  -(Ammoland.com)- Stag Arms, LLC today announced that the company and its founder, Mark Malkowski, have reached a resolution with government officials stemming from an investigation that began last year relating primarily to the timing of record-keeping during the manufacturing process and compliance with federal firearms manufacturing and registration requirements.
Both Stag Arms and Mr. Malkowski cooperated fully with the government throughout the investigation.
While both Stag Arms and Mr. Malkowski believe that public safety was never compromised, they have agreed to enter guilty pleas and to pay significant fines, because doing so is in the best interests of the company and its employees.
Mr. Malkowski has also agreed to transition the business to new ownership and is in advanced talks with a potential buyer.
Mr. Malkowski will continue as a marketing consultant to the business and the industry for a period of time following the sale.
Stag Arms takes its obligations to comply with all laws and regulations very seriously and has made comprehensive changes to ensure that similar problems cannot happen again and that best compliance practices are maintained in all of its operations." – Stag Arms, LLC
UPDATE:
Clarification on Stag Arms federal firearms license status: Please note that as stated in the plea agreement, the federal government has agreed to allow Stag Arms to continue operating with an effective firearms license during the transition to new ownership (see actual wording below):
"The Bureau of Alcohol, Tobacco and Firearms ("ATF") will extend revocation in increments of 60 days for purpose of facilitating sale of the company to an independent third party buyer provided that Stag Arms LLC requests an extension in writing and the extension request is supported by a detailed status report on the efforts to sell the business that ATF finds satisfactory. To the extent that the defendant is sold to an independent third party buyer, nothing in this plea agreement precludes the third party buyer from applying for a federal firearms license and ATF will conduct that application review process as expeditiously as
possible within the rules, regulations and standards to which ATF is subject."
About Stag Arms:
Founded in 2003 Stag Arms has become one of the premier manufacturers of AR-15 rifles and accessories and the only one to offer true left hand versions of our products. Our mission is to to provide our customers with the highest quality, customer service and experience available with AR-15 rifles and accessory purchases.
For more information, visit: www.StagArms.com.