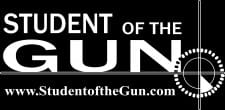 Biloxi, Mississippi (Ammoland) Just two weeks since its release, "Team Honey Badger: Raising Fearless Kids in a Cowardly World" has moved to the top position in the Kindle "Parenting and Relationship" category.
"This topic has really struck a cord with parents and grand parents" said the author, Paul Markel.

"People are sick and tired of being told to lie down, shut up, cower and hide. They see cowardice in the world and they do not want their kids and grand kids to be a part of that." Markel continued, "If the United States of America is to be preserved as our founders intended, we absolutely must instill courage in our children. It is they who will save or lose this nation."
On Dec. 23 2105 Team Honey Badger was listed as the #1 "Best Seller" and the #1 "Hot New Release" in the Amazon Kindle parenting and relationships category. The book is available in paperback and Kindle from Amazon and a limited number of signed copies be had directly from the Student of the Gun online store.
Team Honey Badger Topics Include:
Strengthening the Fearless Mind
Physical Readiness and Experience
Education Principles
Maintaining Balance in Life
Equipping your little Honey Badger with the mental and physical skills needed to grow into a fearless, productive member of their community
Much more.
Lastly, Paul stated, "I am indebted to all the people in the gun culture who are supporting the Honey Badger project, standing behind it and telling their friends about it. Thank you to all who helped make this happen."